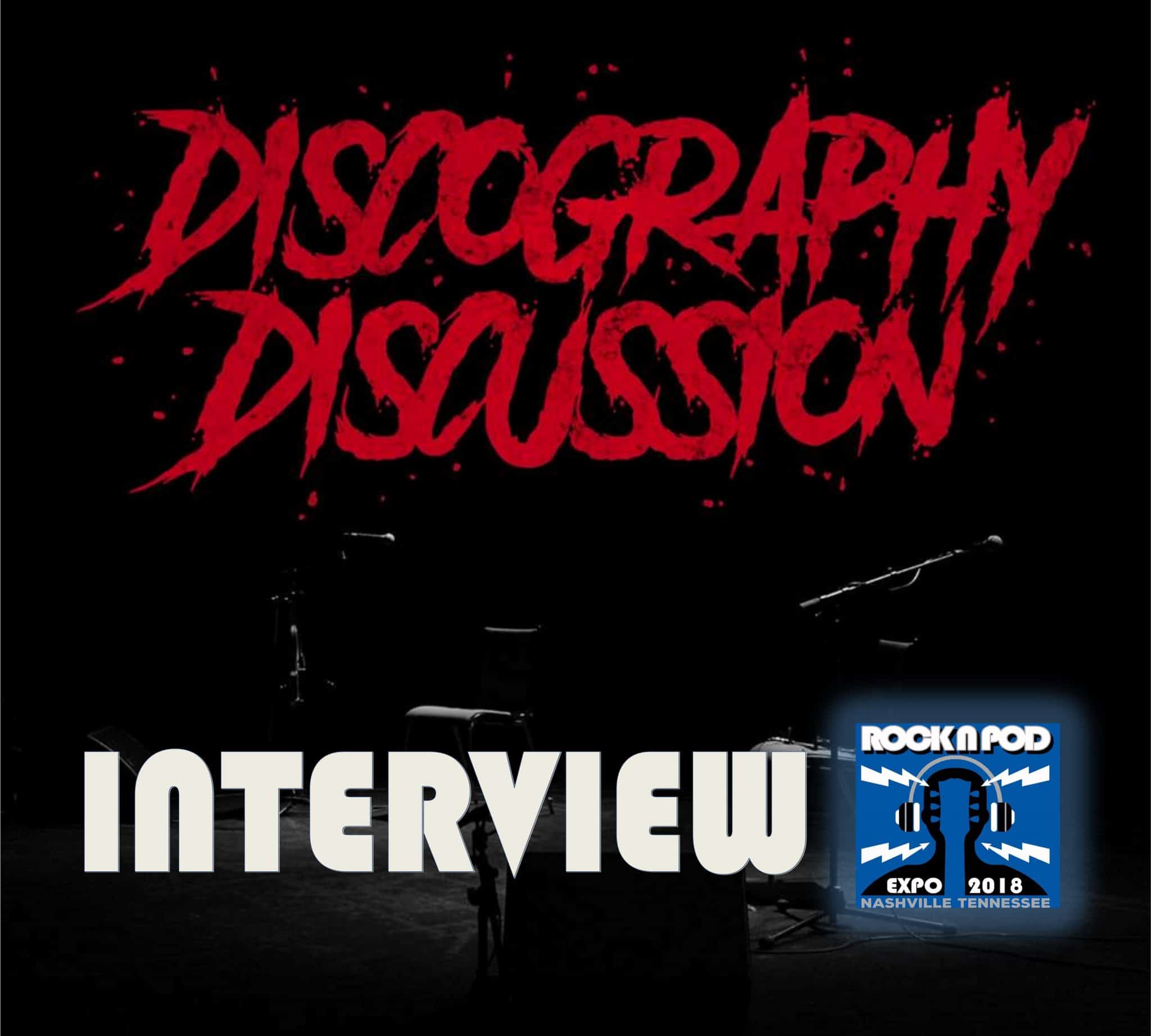 Discovering DISCOGRAPHY DISCUSSION Podcast
OK, I will put it on (ahem) record here – I love the Discography Discussion podcast!  They take an in-depth look at the whole catalogue of metal artists and dissect the records with a fan's eye.  It is a weekly show, hosted by Dan, Geoff and Joe.   As they are coming in the Rock n Pod Expo in August, I therefore jumped at the opportunity to chat with Dan, to get the scoop on all things DD.   – Coxy
---
So, your podcast…What is it all about and how did you start it?
"Discography Discussion is a predominantly heavy metal focused podcast that we started doing back in early 2017. The first two episodes were recorded late 2016, but we officially launched as a podcast in January of 2017. Basically, what we do each week Is we pick a band and then we listen to and discuss their entire discography from start to finish. We run the whole gamut of metal including but not limited to Death Metal, Grindcore, Nu Metal, Metalcore, Hard Rock, Glam etc etc. Occasionally we have special guest hosts on the show from other bands and or podcasts to discuss their favorite bands/albums/genres with us. We have a ton of fun and drink a lot of beer."
What has been your favorite episode and why?
"My favorite episode of the podcast personally would have to be our Kyuss discussion with Trey Suiter of the band Rift. Kyuss was a bit of a different style than we usually discuss on the show, but Trey was a huge fan and he filled in any gaps we may have had. He was funny and energetic and had a lot of strong opinions on those Kyuss albums. That episode is my favorite because it took us out of our comfort zone a little bit."
How did you come to be involved in Rock n Pod 2?
"Last year we went to RnP1 and had a total blast. Unfortunately, we found out about the Expo a little too late and therefore didn't have time to officially participate, but we came down anyway and met a ton of cool people and went home with some sweet Vinyl to boot. So, for RnP2, we really wanted to be involved as soon as we heard it announced."
What are you looking forward to about Rock n Pod2?
"One of our favorite things will be meeting our favorite Rock/Metal podcasters, as well as getting interact and hang out with them. We are hoping to meet some new listeners there as well."
Who are you most looking forward to meeting and why?
"Toby Wright will be there, so we are stoked about talking to him. He produced a lot of the albums we talk about on Discography Discussion. We are also excited to meet Brian "Head" Welch of Korn and to ask him some questions."
What can attendees expect from your podcast – any special events planned?
"We will be recording for almost the entire Expo and pulling people in to talk. So, come say hi to us and you may end up on a podcast!"
What would you like to achieve with the Podcast?
"Honestly, we hope that it ages well as kind of a historical document. A way to catalogue bands' entire discographies in one place. Thats a long way off though. We hope to just keep it going as long as we can and keep building up listeners. One of our favorite things is getting our listeners to throw their opinions into the mix as well and we can include that in the conversations so that all points of view are represented."
What is the best thing about podcasting?
"The best thing for me personally is just having the time to hang out with my friends Joe and Geoff every week. As we all get older with work, wives, and family it can be hard to find time to hang out. This gives us a legitimate excuse to hang out and our wives think we are being productive."
What is the worst thing about podcasting?
"I think starting out brand new is the worst part. When you launch your first 10 episodes or so, the lack of downloads and interest from people can be super discouraging. However I would advise any new podcaster to just keep producing content and don't stop. Eventually, your podcast will get better and people will take notice. It just takes a while, but the worst thing is that first few months/year."
Finally, who would you like to interview for the podcast – your dream interviewee (living or dead)?
"Oh man, thats a tough question. To be honest there are a lot of guests we have had on already that I would have considered to be dream interviews. I'd say out of living or dead I'd have to pick Chuck Schuldiner from the band Death. He is my all time favorite guitarist and was a real pioneer for Death Metal in general."
Thanks guys and all the best for the future and for Rock n Pod 2!

Anyone wanting to meet Dan and the guys, please go to https://www.gofundme.com/rocknpod2018
Discography Discussion on Podbean / Discography Discussion on iTunes / Discography Discussion on Stitcher
Discography Discussion Facebook