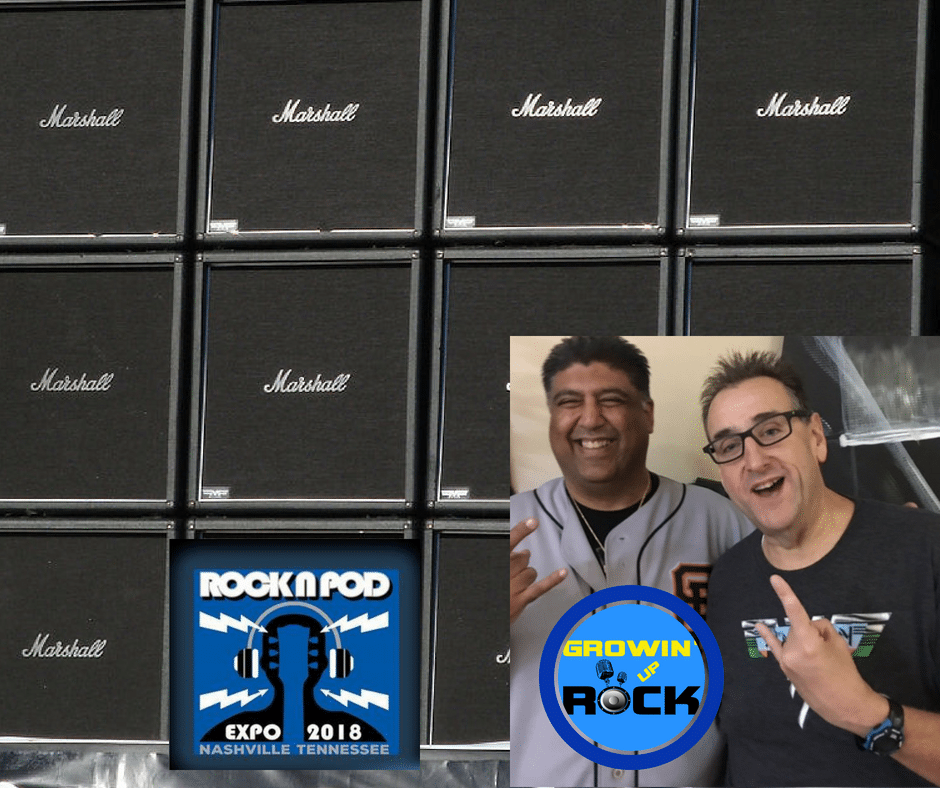 GROWIN' UP ROCK – The Interview
There will be lots of famous faces at Rock n Pod 2 and none more so than the dynamic duo of Steven Michael and Sonny "Hollywood" Pooni of the Growin' Up Rock podcast!  They are bringing it every week with their unique take on rock music and we thought it would be great to speak to Steven about the show and Rock n Pod 2.
So, your podcast…What is it all about and how did you start it (eg how long you been doing it etc)?
"We love all kinds of hard rock and metal and we grew up with tons of memories connected to all those bands and music from the late 70s / 80's / and 90's. We look to connect those stories and memories with episodes involving themes, interviews, and listener interactions. It is important to add, that even though we share the memories and music from our past, the journey continues and we are sharing new music we are still discovering today. We launched the podcast in August 2016, so coming up on our 1 year anniversary as it would happen right before Rock N Pod 2."
What has been your favorite episode and why?
"Our interview with Marco Mendoza from the Dead Daisies, because he's played with so many people and has had so many experiences which he shares. It makes for an interesting conversation. The conversation with Steve Stevens recently is also a favorite because you just don't see a ton of interviews with him, and again he has done a bunch of different things in music that makes him interesting. Plus, let's face it, he's a bad ass on guitar."
How did you come to be involved in RnP2?
"I donated last year to the event because I believed in the platform of podcasting, I was also interested in starting a podcast and this was gonna give me a good opportunity to get my feet wet, Shortly after I launched the Growin' Up Rock podcast, and about 2 weeks after we launched, Chris Czynszak gave me the opportunity (in an unofficial capacity) to be a part of RNP and conduct a few different interviews with some of the guests attending. A year later, the podcast is doing great and both me and my wife are involved in helping to organize sponsorship for this year's event."
What are you looking forward to about RnP2?
"Interaction with the community. One of the best things about music podcasting is meeting and hanging out with all the other great like-minded music and podcasting personalities, who are not only fun, smart, music loving people, but work hard to put out great shows. We get to geek out together when we are conducting interviews with people whose music meant so much to us when we were growing up, as well as some newer players in the game."
Who are you most looking forward to meeting and why?
"Would love to talk more in-depth with Michael Wagner and Paul Taylor. For us at Growin' Up Rock, we think everyone's got a Rock n Roll Story to tell, which means we think some of the coolest stories are lesser known stories from artist and fans. That brush with greatness, or that backstage moment that some people have, but is not a part of the more well publicized stories."
What can attendees expect from your podcast – any special events planned?
"Attendees and listeners can expect live interviews being conducted not only with some of the artists appearing, but some of the listeners and other podcasters attending. We want everyone's Rock n Roll Story. As for special events, it is our understanding we will be helping to host the absolutely unofficial Cobras and Fire Parking Lot Party, as well as interviewing Loose and Bakko down at the County Lockup after that party takes place, plus we heard Dokken and Ratt were playing (Editor's Note: This is unconfirmed at the time of going to press LOL)."
What would you like to achieve with the Podcast?
"What we want is really simple. We want people to obviously listen and connect with the stories and music. We love spreading the word of Rock N Roll across all parts of the world. We love turning people on to music they either forgot about or new music they have yet to discover. Hopefully, while they are going through the day to day grind in their daily lives, they can stop for a minute, smile and rock out."
What is the best thing about podcasting?
"Talking about and playing hard rock and metal music with friends while discovering and learning about new music. We also love getting feedback from listeners that appreciate music and what we do."
What is the worst thing about podcasting?
"Because we work very hard to put out a great sounding product with content that people enjoy, it can take time to make some good editing choices and create art work etc. Because we love music and believe in the platform of music / talk podcasting it does not really feel like work, which is why we continue to do it."
Finally, who would you like to interview for the podcast – your dream interviewee (living or dead)?
"I grew up listening to Van Halen. They were my "IT" band in the early 80's. I think Edward is a musical genius. I would love to talk with Eddie, but it also might be fun to have a conversation with someone like Dave. You never know what you might get when you speak with DLR, and then, as far as those not with us anymore, who would not want to talk with John Lennon or Elvis??? Yes, please."
Thank you, Growin' Up Rock podcast!
If you want to meet Steven and Sonny, please go to :