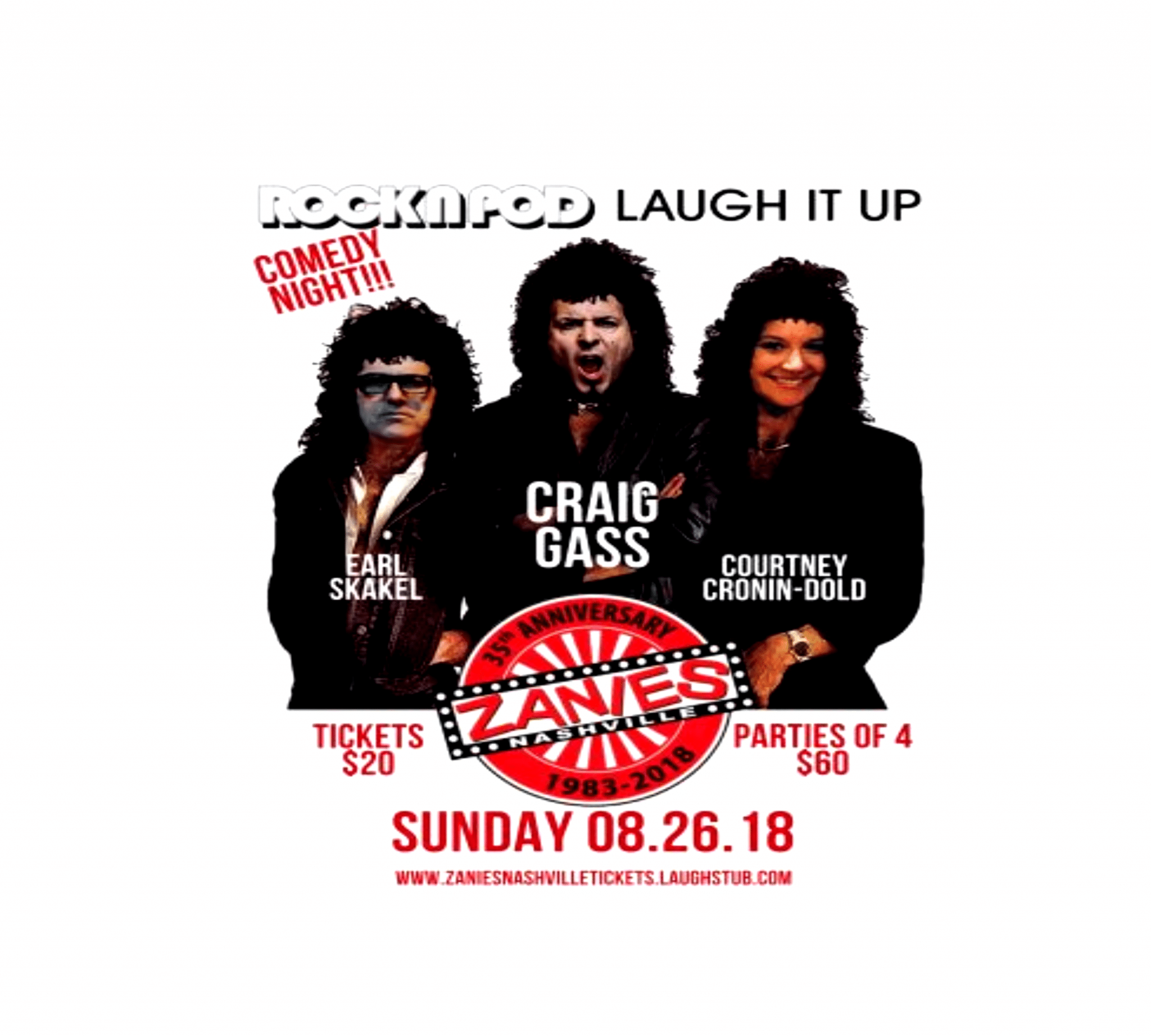 Craig Gass, Earl Skakel & Courtney Cronin-Dold – ROCKNPOD Comedy Night Announced!
Get ready to "Laugh It Up" with Craig Gass, Earl Skakel and Courtney Cronin-Dold at the official ROCKNPOD Comedy Night! There's no better way to close out this awesome expo and weekend of rock and roll music, musicians, celebrities, fans, vendors, and podcasters, and run on sentences… than with a hilarious night of rockin' comedy at Zanies Comedy Club in Nashville!
CRAIG GASS has been seen on King of Queens, Sex and the City and Law and Order. However, his dead-on celebrity impressions on the Howard Stern Show gained him lots of notoriety; especially with KISS fans. Craig's Gene Simmons and Paul Stanley impressions have become a favorite of the KISS Army….and now Gene himself!  Craig has been featured on Gene Simmons Family Jewels and The Roast of Gene Simmons (A&E). Recently, he was featured at the The Indianapolis KISS Expo, and has performed on THREE KISS Kruises.
His celebrity impressions have also been featured on Family Guy and other animated series. He has also opened for major rock acts like Motley Crue, Poison and The Struts.

EARL SKAKEL is a standup comedian, actor, and podcaster from Los Angeles, CA. His film credits include The Benchwarmers, Adult Swim, Comedy Central's Roast Battle and Showtime's I'm Dying Up Here. Earl is a regular at The World Famous Comedy Store in Hollywood, and hosts one of the highest rated comedy podcasts, "Inappropriate Earl". His podcast features long-form conversations at his LA apartment with artists from the worlds of comedy, film, and music. Some of Earl's more memorable rock-related episodes include chats with Stephen Pearcy, Nita Strauss, Bobby Rock, Joey Allen and Fred Coury.
COURTNEY CRONIN-DOLD is a standup comedian and television writer based in Los Angeles, CA. She has been seen on Showtime, HBO, MTV, and TBS, and has written for countless numbers of comedians and celebrities. She was the head writer for the Rock Roll roasts of Dee Snider and Corey Taylor, and most recently the roast of KISS's former production manager, the legendary Charlie Hernandez. She is also a "go to" in the hidden camera/prank world having worked on 13 hidden camera series and pilots. Courtney is a co-host on Pop! A Pop Culture Podcast with Ken Mills and has performed on the KISS KRUISE twice.
ROCKNPOD Comedy Night takes place Sunday August 26, 2018 at Zanies Comedy Club in Nashville, TN. Click HERE to purchase tickets!