We're thrilled to announce that Frank Dimino will be a guest at ROCKNPOD!
Frank is best known to millions of people as the lead singer of 70s iconic rock group ANGEL. Known for their elaborate stage show and all-white costumes, Casablanca Records signed ANGEL to a multi-album deal upon the recommendation of KISS without even hearing the band play. They released six albums for Casablanca and toured non-stop playing American arenas with Aerosmith, Rush, Journey, Styx, Ted Nugent, and others.
A highly successful Japanese tour would include two nights headlining the legendary Budokan. ANGEL appeared on the television shows American Bandstand, Don Kirshner's Rock Concert, The Midnight Special, and in the film "Foxes". Years later after ANGEL disbanded a revamped version of the group was formed with several new members. This resulted in a new album and live shows in Europe and America.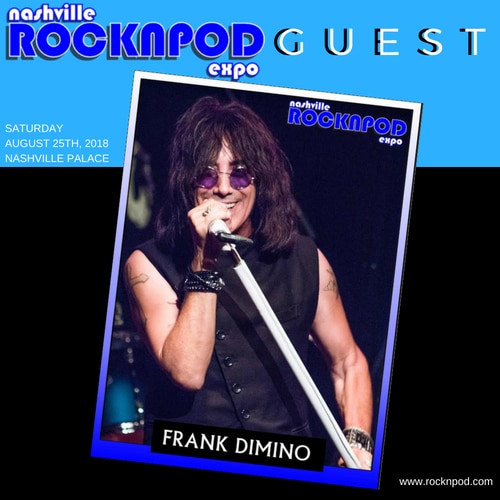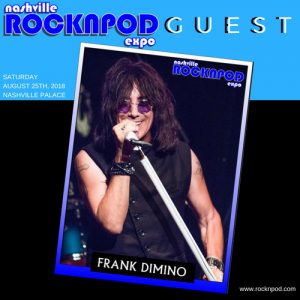 During the 80s Frank became an in-demand session singer and worked with mega-producer Giorgio Moroder. It was during this time he received a platinum album for his vocal contribution on the Flashdance soundtrack. He later recorded with Loudness, King Kobra, Sparks, Paul Raymond (UFO), performed on several tribute albums, and secured multiple television placements for his songs.
Frank DiMino continues to perform live as much as possible and some of his projects have included Oz Fox (Stryper), Jimmy Crespo (Aerosmith, Rod Stewart), and appearing in the hit show Raiding The Rock Vault on the Las Vegas Strip. In addition to studio work and live performing Frank is a well-respected voice teacher and music counselor for Rock 'n Roll Fantasy Camp.
In 2015 Frank DiMino released his first solo album Old Habits Die Hard under the moniker Dimino on Frontiers Records. The melodic hard rock album was produced by Paul Crook (Meat Loaf, Anthrax) and includes several guests such as former ANGEL bandmate Punky Meadows, Oz Fox (Stryper), Eddie Ojeda (Twisted Sister), Rickey Medlocke (Blackfoot, Lynyrd Skynyrd), Pat Thrall (Hughes/Thrall), Jeff Duncan (Armored Saint), along with members from Meat Loaf's band.
Frank is Currently Touring with Angel Guitarist Punky Meadows.Together they are playing a Full Angel set with selected Solo Material.A Show that is not to be missed.
Frank, along with bandmates Danny Farrow and Punky Meadows will be on hand selling merchandise and participating in an onstage panel on the history of Angel, his and Punky's solo work as well as plans for the future. The panel will be moderated by Mike Williams of the Classic Rock Drops podcast.
Meet Frank Dimino at ROCKNPOD! $10.00 gets you in the door with access to the panel discussion.
Other guests at ROCKNPOD include current/former members of KISS, Korn, Winger, Accept, Loudness, Keel, Joan Jett, Kik Tracee, Bang Tango, and more to be announced!
Over 25 rock themed podcast will be on-site recording and meeting listeners!
A ROCKNPOD museum will be on-site showing off stage played gear from some of your favorite bands!
Also, numerous vinyl and memorabilia dealers will be on hand selling the best in all-things-Rock!
Get full info at www.rocknpod.com!
Tickets available at www.rocknpod.eventbrite.com.
Donate to help operating costs at www.gofundme.com/rocknpod2018