We're thrilled to announce that Punky Meadows will be a guest at ROCKNPOD!
Punky is best known for being the iconic lead guitarist of the 70's band ANGEL on Casablanca Records. Known for their elaborate stage show and all-white costumes, They released six albums for Casablanca and toured non-stop playing American arenas with Aerosmith, Rush, Journey, Styx, Ted Nugent, and others. A highly successful Japanese tour would include two nights headlining the legendary Budokan . ANGEL appeared on the television shows American Bandstand, Don Kirshner's Rock Concert, The Midnight Special, and in the film Foxes.
In 2016 Punky released his first solo album FALLEN ANGEL that Charted number 6 on the Heatseekers Billboard Chart as well as 3 other Charting positions. It has received Rave reviews and many Top Album of 2016 honors, Punky has had a very successful return.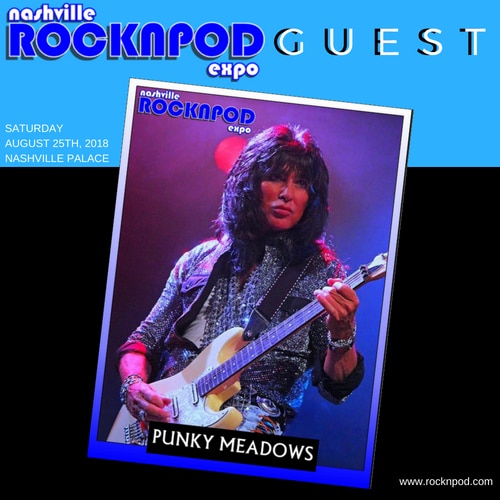 Punky was a huge influence to many musicians for not only his great feel, tone and unique style of guitar playing, but also his rock star image that many have tried to emulate over the years. ANGEL released 6 albums on Casablanca before disbanding in 1981 due to the demise of Casablanca. During his career Punky had been considered to join well-known bands such as Kiss, Aerosmith, New York Dolls and Michael Bolton. Upon the disbanding of ANGEL he occupied himself with successful business ventures while continuing to play guitar and write songs.
Punky is playing better than ever and it really shows on Fallen Angel and has been getting very high praise along with his Band for their Live shows.
Punky is Currently Touring with Angel Vocalist Frank Dimino.Together they are playing a Full Angel set with selected Solo Material.A Show that is not to be missed.
www.punkymeadowsofficial.com
Punky, along with bandmates Danny Farrow and Frank Dimino will be on hand selling merchandise and participating in an onstage panel on the history of Angel, his and Punky's solo work as well as plans for the future. The panel will be moderated by Mike Williams of the Classic Rock Drops podcast.
Meet Punky Meadows at ROCKNPOD! $10.00 gets you in the door with access to the panel discussion.
Other guests at ROCKNPOD include current/former members of KISS, Korn, Winger, Accept, Loudness, Keel, Joan Jett, Kik Tracee, Bang Tango, and more to be announced!
Over 25 rock themed podcast will be on-site recording and meeting listeners!
A ROCKNPOD museum will be on-site showing off stage played gear from some of your favorite bands!
Also, numerous vinyl and memorabilia dealers will be on hand selling the best in all-things-Rock!
Get full info at www.rocknpod.com!
Tickets available at www.rocknpod.eventbrite.com.
Donate to help operating costs at www.gofundme.com/rocknpod2018