We're thrilled to announce that TORA TORA will be guests at ROCKNPOD!
TORA TORA, formed in Memphis, TN in the late 1980s, includes band members include Keith Douglas, Patrick Francis, John Patterson and Anthony Corder.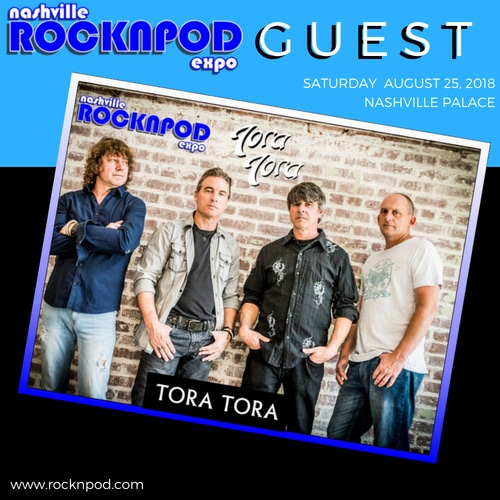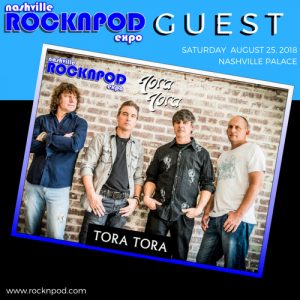 TORA TORA has two major releases Surprise Attack/Wild America through A&M Records that promoted five singles and videos (Walkin' Shoes, Guilty, Phantom Rider, Amnesia and Faith Healer).
The band has six independent releases, The Warehouse Sessions, Bombs Away, Miss B. Haven, Before and After, Revolution Day, and most recently a live performance concert Live from Minglewood, in Memphis #ROCKOUTCANCER.
Live appearances have been at festivals Rocklahoma, Farm Rock, Rock & Skull and Monster of Rock Cruise.
TORA TORA will be at ROCKNPOD meeting fans, signing autographs, and recording with several of the podcasts on site as they prepare to release their upcoming studio album on Frontiers Records.
Meet TORA TORA at ROCKNPOD! $10.00 gets you in the door!
Other guests at ROCKNPOD include current/former members of Angel, KISS, Korn, Winger, Accept, Loudness, Keel, Joan Jett, Kik Tracee, Bang Tango, and more to be announced!
Over 25 rock themed podcast will be on-site recording and meeting listeners!
A ROCKNPOD museum will be on-site showing off stage played gear from some of your favorite bands!
Also, numerous vinyl and memorabilia dealers will be on hand selling the best in all-things-Rock!
Get full info at www.rocknpod.com!
Tickets available at www.rocknpod.eventbrite.com.
Donate to help operating costs at www.gofundme.com/rocknpod2018
ROCKNPOD is sponsored by Blind Tiger Record Club, School of Rock Nashville and School of Rock Franklin.
ROCKNPOD – A DBG Productions Event