We're thrilled to announce that Taco Mouth will be joining us at ROCKNPOD!
Formed by members of The Dead Deads Erica Sellers and Angela Lese, Taco Mouth also features Shawn Hammer, Flip Cooper (Rearview Ghost), and singer Erica Dilanjian (Lady E and the Black Light, En Esch, Lords of Acid).
Influenced by The Ramones, The Kinks, MC5, The Runaways, The Clash, and others, Taco Mouth released the EP W.G.A.F produced by the legendary Michael Wagener. A full-length studio album, also produced by Wagener, is due in late 2018.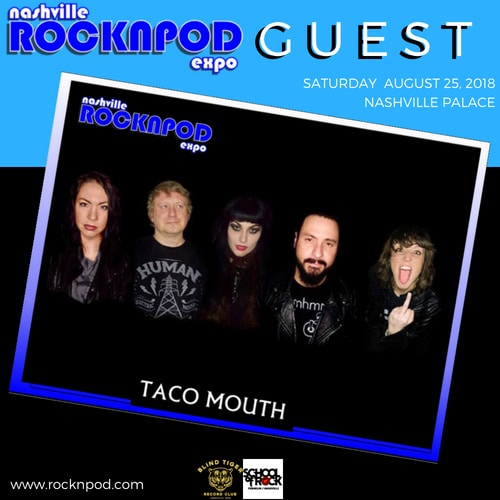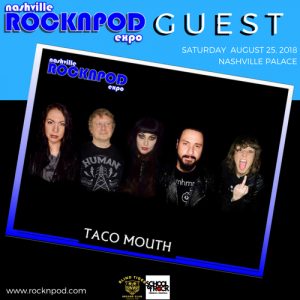 Meet Taco Mouth at ROCKNPOD! $10.00 gets you in the door!
Other guests at ROCKNPOD include current/former members of Angel, KISS, STARZ, Tora Tora, Korn, Winger, Accept, Loudness, Keel, Joan Jett, Kik Tracee, Bang Tango, and more to be announced!
Over 25 rock themed podcast will be on-site recording and meeting listeners!
A ROCKNPOD museum will be on-site showing off stage played gear from some of your favorite bands!
Also, numerous vinyl and memorabilia dealers will be on hand selling the best in all-things-Rock!
Get full info at www.rocknpod.com!
Tickets available at www.rocknpod.eventbrite.com.
Donate to help operating costs at www.gofundme.com/rocknpod2018
ROCKNPOD is sponsored by Blind Tiger Record Club, School of Rock Nashville and School of Rock Franklin.
ROCKNPOD – A DBG Productions Event