We're thrilled to announce that Anthony Focx will be a guest at ROCKNPOD!
Anthony Focx hails from Los Angeles, CA and has worked with many platinum artists throughout his career as a guitarist and/or audio engineer. Anthony is also the guitarist for the hard rock band Beautiful Creatures (Warner Bros). Anthony is no stranger to the live stage as the band Beautiful Creatures performed on traveling tours such as The Rolling Rock Tour, Ozzfest, and has also opened for KISS and Marilyn Manson.
Anthony's studio credits include production work on the following record label projects; Conway Twitty, Patsy Cline, Waylon Jennings, Canned Heat, Daughtry, Aerosmith, Metallica, The Dead Daisies and many more. Anthony has appeared in big screen movies and also had Beautiful Creatures songs featured in the television series 'Smallville' and 'Sons of Anarchy' as well as the movies 'Rollerball' and 'Valentine'.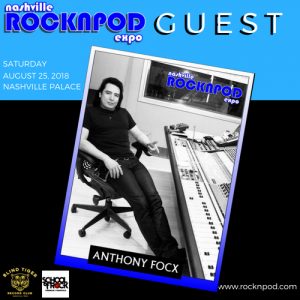 Meet Anthony Focx at ROCKNPOD! $10.00 gets you in the door!
Other guests at ROCKNPOD include current/former members of Angel, KISS, STARZ, Tora Tora, Korn, Winger, Accept, Loudness, Keel, Joan Jett, Kik Tracee, Bang Tango, and more to be announced!
Over 25 rock themed podcast will be on-site recording and meeting listeners!
A ROCKNPOD museum will be on-site showing off stage played gear from some of your favorite bands!
Also, numerous vinyl and memorabilia dealers will be on hand selling the best in all-things-Rock!
Get full info at www.rocknpod.com!
Tickets available at www.rocknpod.eventbrite.com.
Donate to help operating costs at www.gofundme.com/rocknpod2018
ROCKNPOD is sponsored by Blind Tiger Record Club, School of Rock Nashville and School of Rock Franklin.
ROCKNPOD – A DBG Productions Event