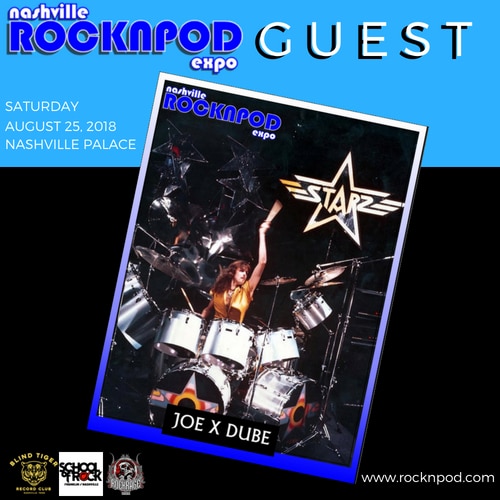 Joe X Dube of STARZ to Guest at ROCKNPOD!
We're excited to announce Joe X. Dube will be joining us at ROCKNPOD! Joe will be part of a special STARZ panel along with band mate Brendan Harkin discussing the history of the band, their careers, and plans for the future.
Drummer Joe X. Dube (a/k/a Jeff Grob) has had a wide and varied musicalh history As an original member of the Epic Records' recording artist Looking Glass, Dube's first success came in 1972 with the self-produced, multi-million selling #1hit record, "Brandy (You're A Fine Girl)". Originally selling 3 million singles worldwide,the record went double platinum again in 2000 as a featured song in the movie and on the soundtrack for Columbia Pictures' "Charlie's Angels". Recently, itwas the featured song in Marvel Studios' film, "Guardians of The Galaxy 2". The soundtrack album received a gold record award and was nominated for a Grammy Award in 2018. Looking Glass is currently working on a series of Christmas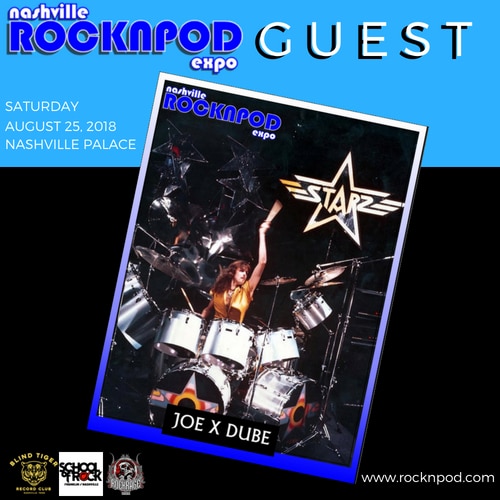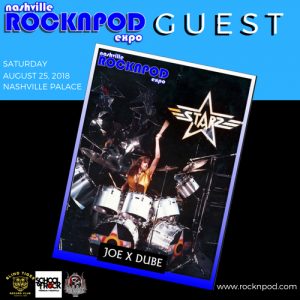 recordings for release this Fall.
Out of the bones of the band Looking Glass grew Capitol Records' recording artists STARZ. Dube was a founding member of STARZ that recorded four studio albums and one live album. Produced by Jack Douglas and Jack Richardson, STARZ charted eight songs on Billboard magazine's singles chart including the National Top 40 hit, "Cherry Baby". Managed by Aucoin Management, whose other acts included KISS and Billy Squire, STARZ toured nationally with such acts as Aerosmith, Foghat, Ted Nugent, Blue Oyster Cult, Bob Seger, and Z.Z. Top.
Rock journalist Doug Brod, who wrote for Spin Magazine as well as many other publications and websites since 1986, is currently working on a book that discusses the four most influential rock bands based on his interviews since 1986. Wheni interviewingscores of bands through the years, Mr. Brod asked each member of each band who their biggest influences were and kept a running total. The four bands were Kiss, Aerosmith, Cheap Trick and Starz.
Meet Joe X. Dube at ROCKNPOD! $10.00 gets you in the door!
Other guests at ROCKNPOD include current/former members of Angel, KISS, Tesla, STARZ, Tora Tora, Korn, Winger, Loudness, Keel, Beautiful Creatures, Kik Tracee, Bang Tango, and more to be announced!
Over 25 rock themed podcast will be on-site recording and meeting listeners!
A ROCKNPOD museum will be on-site showing off stage played gear from some of your favorite bands!
Also, numerous vinyl and memorabilia dealers will be on hand selling the best in all-things-Rock!
ROCKNPOD takes place Saturday August 25, 2018 at Nashville Palace. More info available at www.rocknpod.com
Tickets available NOW at www.rocknpod.eventbrite.com!
ROCKNPOD is brought to you by Blind Tiger Record Club, Rock Rage Radio, School of Rock Nashville, and School of Rock Franklin. ROCKNPOD – A DBG Productions event.