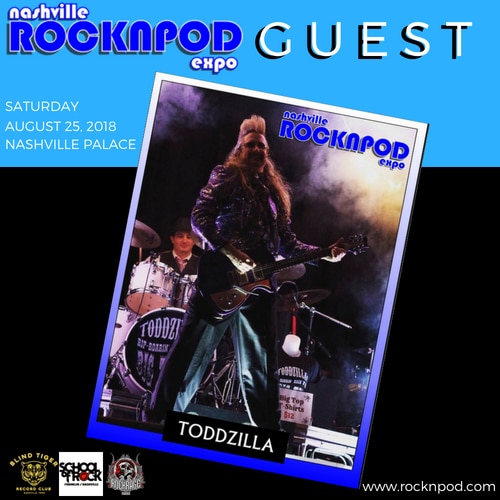 Toddzilla to Guest at ROCKNPOD!
We're excited to announce that Todd "Toddzilla" Austin will be joining us again this year at ROCKNPOD!
For over three decades, the tall purple man known as "Toddzilla" has been a unique part of the Nashville musical landscape. His skills as a guitarist and performer–along with his lengthy tenure in the rock 'n' roll trenches of Music City–have earned him titles like "Legend" and "Nashville Icon." Those in the know in the most musical city in America have no doubt about who he is.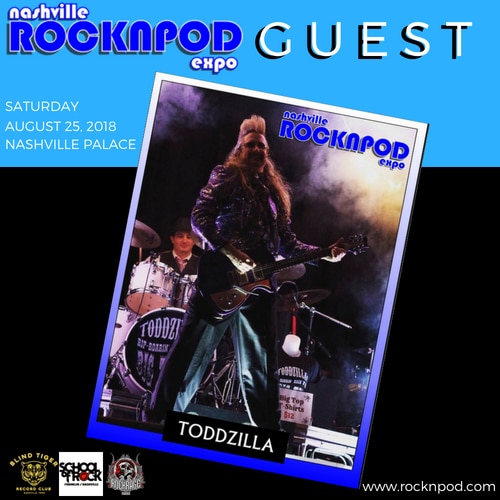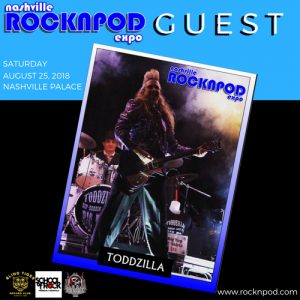 He walks his own path with his unique and daring image, cultivated to embody the funkiness of his music; it always gets him noticed immediately. Toddzilla's hairstyle has become as iconic in Nashville as Michael Jackson's glove. A combination of multi-colored hair-wraps and a swept-up, gravity defying Mohawk, "the hairdo" is a fashion statement that literally stops traffic. Together with flashy, Technicolor zoot-suits stolen straight from Morris Day's closet, it creates a signature look that is both funky-chic and full-blast rock star.
Toddzilla's influences range from the gritty rock of AC/DC and KISS to the funk of Cameo and George Clinton, from the mastery of Jeff Beck to the showmanship of Steve Vai. It was once said that if Eddie Van Halen had a baby with Prince and its babysitter was Billy Gibbons, you'd have Toddzilla.
Over the course of 30 years, Todd has made a definite mark on Music City. He has wowed and won audiences as leading man for his original rock bands, Ravenheart and The Jones, as well as the funk-rock trio, FunkHammer, and the funk family juggernaut, JonesWorld. He also played alongside Warner Hodges (of Jason and The Scorchers fame) in the power-rock group The Disciples of Loud and, most recently, toured internationally with the Prince tribute act, Purple Masquerade.
Aside from playing, performing, songwriting, and producing, he has been a longtime fixture at Corner Music, where he serves as guitar guru to national artists and music professionals. Even his superstar clients recognize that he is more than just a "guitar store guy;" Pat Buchanan, well-known session player and veteran sideman for Cameo, Hall and Oates, and Cindy Lauper, once joked: "Todd's like a championship race car driver working at the car wash."
His latest project, Toddzilla's Rip-Roarin' Rock 'n' Roll Big Top, is a culmination of all of the experiences and influences of a lifetime in music. As the Ringmaster of his new musical circus, Todd's natural talents as a guitarist and front man become the hood ornament on an extravaganza of amazing musicians and performers, with a soundtrack of classics loved the world over. The show is as eclectic and electric as the persona of the man leading the charge.
Meet Toddzilla at ROCKNPOD! $10.00 gets you in the door!
Other guests at ROCKNPOD include current/former members of Angel, KISS, Tesla, Shinedown, Danzig, STARZ, Tora Tora, Korn, Winger, Loudness, Keel, Beautiful Creatures, Kik Tracee, Bang Tango, and more to be announced!
Over 25 rock themed podcast will be on-site recording and meeting listeners!
A ROCKNPOD museum will be on-site showing off stage played gear from some of your favorite bands!
Also, numerous vinyl and memorabilia dealers will be on hand selling the best in all-things-Rock!
ROCKNPOD takes place Saturday August 25, 2018 at Nashville Palace. More info available at www.rocknpod.com
Tickets available NOW at www.rocknpod.eventbrite.com!
ROCKNPOD is brought to you by Blind Tiger Record Club, Rock Rage Radio, School of Rock Nashville, and School of Rock Franklin. ROCKNPOD – A DBG Productions event.