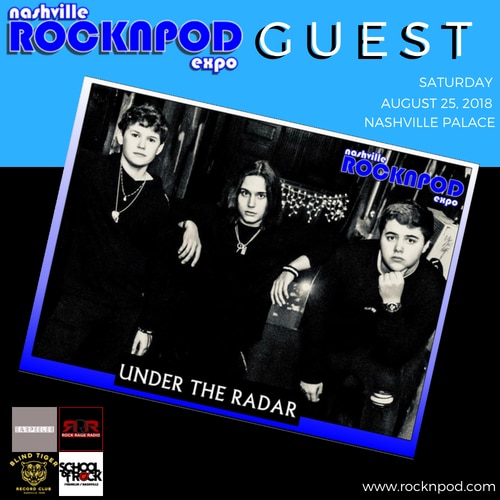 Under the Radar to Guest at ROCKNPOD!
---
We're excited to announce that Memphis rock trio Under the Radar will be joining us at ROCKNPOD
Opening for bands like Kansas, Loverboy, .38 Special, Saliva, Better Than Ezra, LA Guns, and Bret Michaels, Under The Radar has proven that they can hold their own on the big stages. The most amazing thing though is that they're just 14, 15, and 16 years old. You may have heard from some that rock is dead, well Under The Radar is here to let you know that rock-n-roll is alive and well.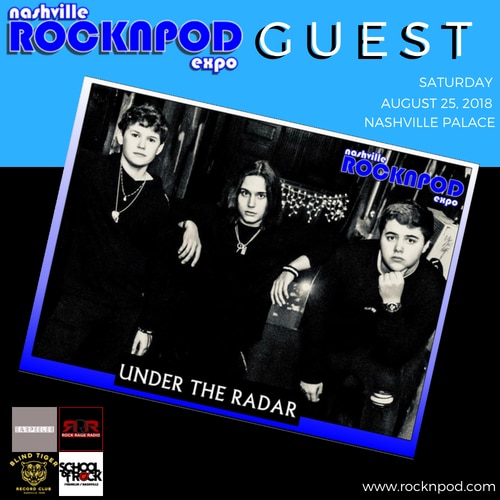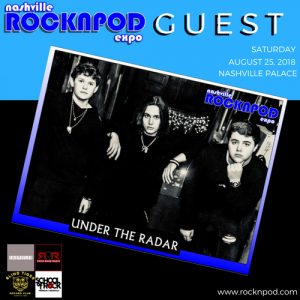 UTR formed in August of 2014 and they played their first show one month later. There was no denying that something special was happening. When they met, they were only 10, 11 and 12 years old, but you couldn't tell by the way they played and performed on stage. It's a very rare thing, in this day and age, for three young musicians to not only find each other but have the same passion for music. Ryan's rock-solid time-keeping coupled with Matt's thunderous bass lines lay down a solid foundation for Zeke's rocket-fueled guitar chops. Four years later, they've released two albums and they continue to open shows for some amazing artists. They're getting airplay all over the world and their fan base is steadily growing. Their sound is huge, and they hold tight to their classic rock roots. Their musicianship and stage presence are way beyond their years and UTR are fully committed to giving everything they've got, every time they step on the stage!
In the short time, they have been a band, they have appeared on terrestrial radio all over the region, internet radio all over the world and had 5 separate television appearances. They played the Jimi Jamison Tribute in 2015, 2016, 2018 and kicked off the New Year's Eve Guitar Drop at the Hard Rock Cafe on Beale Street in December of 2015 and 2017. They have been written up by online magazines like Guitar World, Classic Rock, Prog Rock, Classic Rock Revisited and countless others. In February of 2015, an Italian website called them, "The Baby Trio From Memphis". The producers from America's Got Talent were even calling to discuss the boys. They just released their first full-length album with Jimmy Fulp engineering, Todd Poole Producing and Justin Rimer handling the mix duties. Todd Poole was the founding member and lead singer of Roxy Blue, who were signed to Geffen in the early 90's. He later went on to form the Grammy-nominated band, Saliva, and to front the hard-driving band, 714. Todd is also the son-in-law of the late great Jimi Jamison, formerly of Survivor, Cobra, and Target. Todd has assumed the role of manager, mentor and big brother for the boys and they're having the time of their lives.
Meet Under the Radar at ROCKNPOD! $10.00 gets you in the door!
Other guests at ROCKNPOD include current/former members of Angel, Danzig, Tesla, Shinedown, STARZ, Biters, Tora Tora, Korn, Winger, Loudness, Keel, Beautiful Creatures, Kik Tracee, Bang Tango, and more!
Over 25 rock themed podcast will be on-site recording and meeting listeners!
A ROCKNPOD museum will be on-site showing off stage played gear from some of your favorite bands!
Also, numerous vinyl and memorabilia dealers will be on hand selling the best in all-things-Rock!
ROCKNPOD takes place Saturday August 25, 2018 at Nashville Palace. More info available at www.rocknpod.com
Tickets available NOW at www.rocknpod.eventbrite.com!