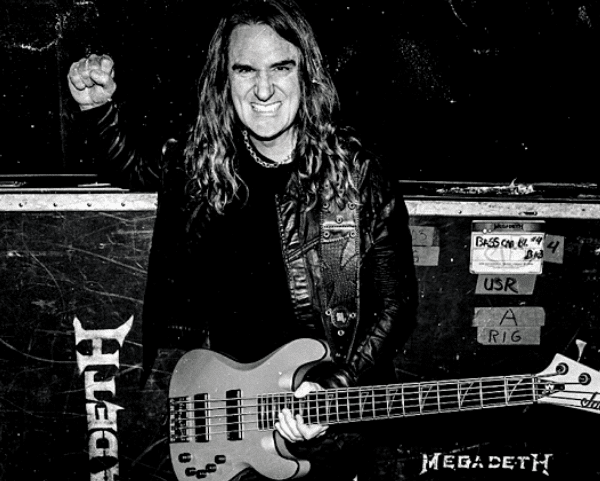 DAVID ELLEFSON IS GOING TO BE AT ROCKNPOD EXPO!
We're thrilled to announce that Megadeth bassist David Ellefson will be a guest at the Nashville ROCKNPOD Expo!

From humble farm roots in rural Minnesota, David Ellefson has come a long way, literally and figuratively, to conquering stages around the world as bassist of thrash metal titans MEGADETH. Revered for his unique, hard-hitting playing style, and unwavering dedication to his musical craft, Ellefson has woven a vast professional tapestry as a bassist, songwriter, record producer, clinician and author. As a member of MEGADETH, he has been awarded 10 Grammy nominations, countless gold & platinum records and toured the world for the better part of 3 decades.
In addition to Megadeth, David has lent his playing and writing abilities to several other recording and touring projects including Soulfly, F5, Temple of Brutality, Altitudes and Attitude (With Frank Bello of Anthrax) and Metal Allegiance, the "supergroup" formed by Mark Menghi with David, Mike Portnoy, and Alex Skolnick who released their eponymous debut in 2015 on Nuclear Blast. A new solo album, Sleeping Giants, is due to be released July 5th as a companion piece to his forthcoming memoir, My Life with Deth.
Ellefson who holds a Bachelor's degree in business marketing and continues to lecture on a variety of music and business related topics, has also ventured out into other related forays, as president of record label EMP Label Group (Ellefson Music Productions), and with his own coffee brand Ellefson Coffee Co.
David will bat on-hand at the expo to meet fans, sign autographs, and interview with some of the dozens of music podcasts on-site. He and his EMP Label partner Thom Hazaert will also be conducting some special music business panels taking place at ROCKNPOD. These panels are being presented by Playback Independent Music Expo.
Meet David Ellefson from Megadeth along with members of Exodus, Stryper, Saigon Kick, KIX, Danzig, Tora Tora, Green Jello, Roxy Blue and many more!
Also, vinyl and memorabilia vendors, rock and metal museum, cosplay and more!
Tickets and VIP available NOW at www.nashvillerocknpodexpo.com/ticketing