Following his appearance at the Nashville Rocknpod Expo on Saturday August 10th where he and EMP Label Group partner Thom Hazaert will be meeting fans and moderating some music business panels, David Ellefson will take over the venue for a special Basstory Show and Jam with several Nashville pro players.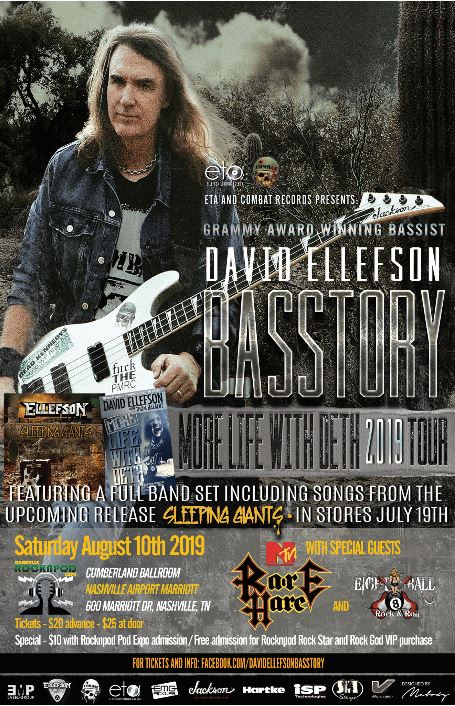 The show will feature a Q&A/discussion, with co-author and partner Thom Hazaert, about Ellefson'supcoming memoir MORE LIFE WITH DETH, in stores 7/16 via Jawbone Press, and a full live-band set including songs from the companion album SLEEPING GIANTS, in stores 7/19 via COMBAT RECORDS.
Performing with Ellefson will be Hazaert, who handles vocals on the newly recorded tracks from Sleeping Giants.
Featuring cover art by Melody Myers (Altitudes and Attitude, Marc Rizzo, Escape The Fate), SLEEPING GIANTS will be a retrospective featuring several new tracks recorded by Ellefson and Hazaert, plus a collection of demos, and unreleased material, from F5 and David's other projects, including the unreleased demo "If You Were God", featuring John Bush (Anthrax, Armored Saint), plus several unreleased demos featuring House of Lords/Giuffria vocalist David Glen Eisley. The CD version will also include a second bonus disc, featuring a compilation of EMP and COMBAT RECORDS Artists.Produced by Ellefson and Hazaert, with additional production from ICON guitarist John Aquilino at the Platinum Underground in Phoenix, 
Sleeping Giants is tentatively set to include a multitude of guests including legendary MC Darryl "DMC" McDaniels, who shares vocals with Hazaert on the title track, Ken Mary (Alice Cooper, Flotsam and Jetsam), Steve Conley (Flotsam and Jetsam, F5), Ethan Brosh, Bumblefoot, Dave Sharpe and Opus Lawrence of Dead By Wednesday, Mark Tremonti, Joey Radziwill (Sacred Reich), Illias Papadakis (Memorain), Dave McClain (Machine Head, Sacred Reich),and more, plusa remix by Game of Thrones star Kristian(Hodor)Nairn
Following the Basstory set, David will jam on some metal classics with several Nashville pro musicians. This portion of the evening is part of the Rare Hare series organized by Nashville musician Tyson Leslie and features a gathering of the finest touring, session, and working musicians to perform non-overplayed Metal.
The Nashville Rocknpod Expo will feature Ellefson, Michael Sweet of Stryper, Jack Gibson of Exodus, Eerie Von of Danzig, Brian "Damage" Forsythe of KIX, Jason Bieler of Saigon Kick as well as members of Tora Tora, Roxy Blue, Every Mother's Nightmare and many more. Also, numerous vinyl and memorabilia vendors, music podcasters, and much more. The Rocknpod Expo takes place Saturday August 10th at Nashville Airport Marriott. Expo hours are 11:00am – 5:30pm
David Ellefson's Basstory Show and Jam takes place in the same venue at 7:00pm.
Rocknpod attendees get discounted admission ($10.00) to Basstory at https://www.tickettailor.com/events/combatrecords/283745#
Rocknpod Expo tickets available at www.nashvillerocknpodexpo.com/ticketing
Rocknpod Rock Star VIP and Rock God VIP get FREE ADMISSION to Basstory and will also receive an autographed poster from David Ellefson and Thom Hazaert. 
Buy your Rocknpod VIP pass at https://register.growtix.com/e/ROCKNPOD_2019/25087/158206
Basstory advance tickets are $20.00 they will be $25.00 at the door https://www.tickettailor.com/events/combatrecords/283745#