We're thrilled to announce that producer Toby Wright is returning to ROCKNPOD!
Toby Wright is a Grammy Award-winning producer, mixer, and engineer of multi-platinum records for Alice In Chains, Metallica, The Wallflowers, Korn and more, as well as an accomplished player and pioneering innovator in the field of sound design.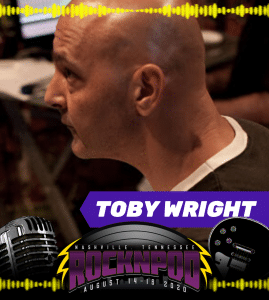 Toby Wright
Toby is also the inventor of Taummhoms; a subscription based sleep sound streaming service that can be accessed from any internet connected device. It features unique, on- demand, HIGH DEFINITION sounds that can help you in promoting sleep and revitalization. The options once in the FREE TRIAL section allow you to customize your desired length of time you are wishing to sleep in 30 minute increments. The sounds compliment each other creating a sense of deepened enlightenment, kindness and gratitude. You can get full details on Taummhoms and how to get a FREE 3 day trial at https://www.taummhoms.com/
ROCKNPOD Weekend takes place August 14-16 in Nashville TN and inlcudes a preparty concert on Friday (08.14), ROCKNPOD Expo on Saturday (08.15), Rock n Roll Double Feature Screening on Saturday night(08.15), and Punchlines & Backlines Comedy Show on Sunday night (08.16). Full details available at Rocknpod.com!
Tickets: https://www.nashvillerocknpodexpo.com/ticketing/
Guests: https://www.nashvillerocknpodexpo.com/guests/
Venue/Hotel: ROCKNPOD 2020 takes place at the Hilton Nashville Airport!
Hotel Discount: Book your room to save money and stay on site! https://www.nashvillerocknpodexpo.com/hotel/
#tobywright #aliceinchains #korn #kiss #rocknpod #rocknpod2020 #rocknpodexpo #convention #expo #fanexpo #rock #metal #music #festival #tradeshow #podcast #podcastexpo #podcastlife #conference #tradeshow