We're excited to announce that Troy Luccketta of Tesla will be joining us at ROCKNPOD!
While his gig in Tesla is a long and storied one, Troy's career features several other notable contributions to amazing rock artists such as Whitford/St. Holmes, The Eric Martin Band, and Jeff Labar. In early 2018, he formed a Nashville based project entitled Dixie Horsepower. More recently, he's launched his Troy Shows Up and A Song for Wellness projects.
Troy started playing drums at 10 years old and was influenced by Mitch Mitchell of the Jimi Hendrix Experience. He has a wide variety of musical tastes and loves Creedence Clearwater Revival, Neil Diamond, Led Zeppelin, and Latin style percussion. His other drumming influences include John Bonham, Ian Paice, Jeff Porcaro, David Garibaldi, and Steve Gadd. Troy grew up in the east San Francisco bay area playing in bands such as Whisper, Benny and the Jets, 415, and the Eric Martin Band before joining Tesla in 1985.
In 2010, Troy participated in a tribute album titled Mister Bolin's Late Night Revival, a compilation of 17 previously unreleased tracks written by guitar legend Tommy Bolin prior to his death in 1976. The CD includes other artists such as HiFi Superstar, Doogie White, Eric Martin, Jeff Pilson, Randy Jackson, Rachel Barton, Rex Carroll, Derek St. Holmes, Kimberley Dahme, and The 77's. A percentage of the proceeds from this project will benefit the Jackson Recovery Centers.[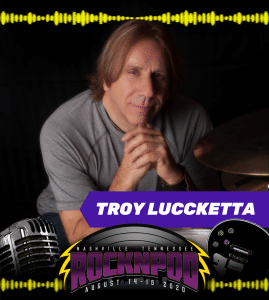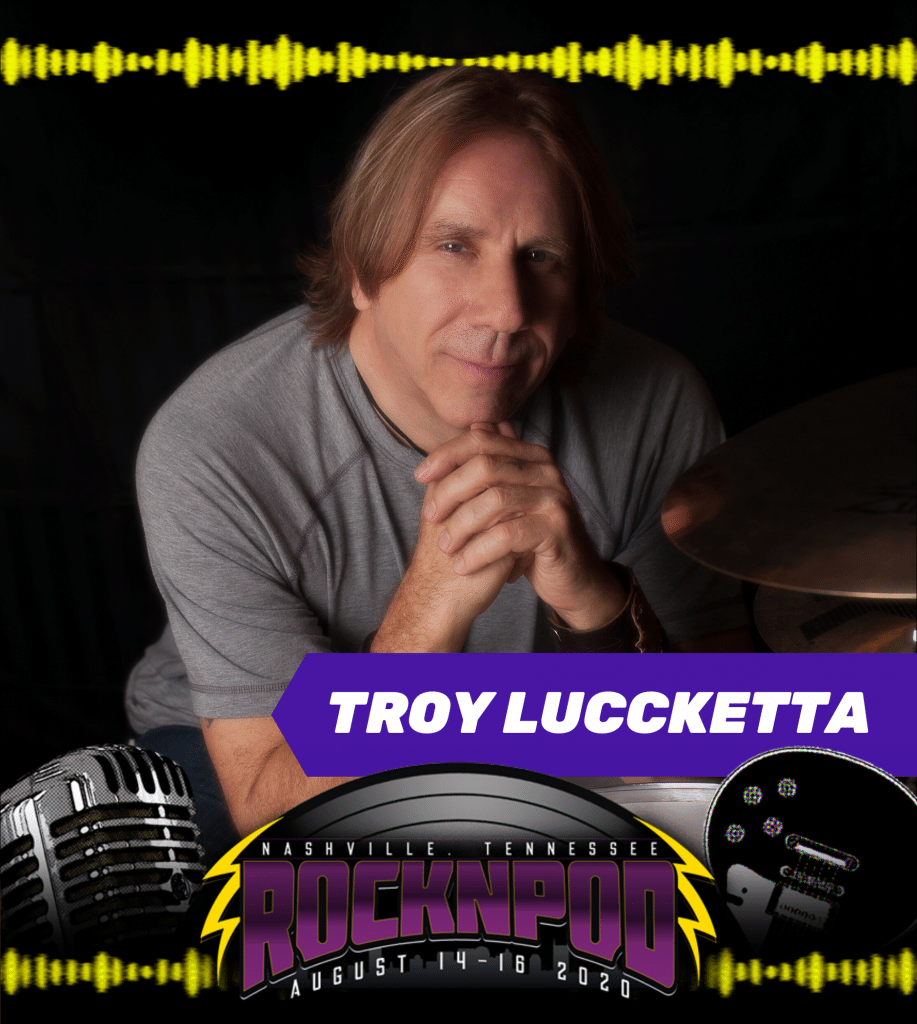 Troy Luccketta
ROCKNPOD Weekend takes place August 14-16 in Nashville TN and inlcudes a preparty concert on Friday (08.14), ROCKNPOD Expo on Saturday (08.15), Rock n Roll Double Feature Screening on Saturday night(08.15), and Punchlines & Backlines Comedy Show on Sunday night (08.16). Full details available at Rocknpod.com!
Tickets: https://www.nashvillerocknpodexpo.com/ticketing/
Guests: https://www.nashvillerocknpodexpo.com/guests/
Venue/Hotel: ROCKNPOD 2020 takes place at the Hilton Nashville Airport!
Hotel Discount: Book your room to save money and stay on site! https://www.nashvillerocknpodexpo.com/hotel/
#troyluccketta #tesla #troyshowsup #rocknpod #rocknpod2020 #rocknpodexpo #convention #expo #fanexpo #rock #metal #music #festival #tradeshow #podcast #podcastexpo #podcastlife #conference