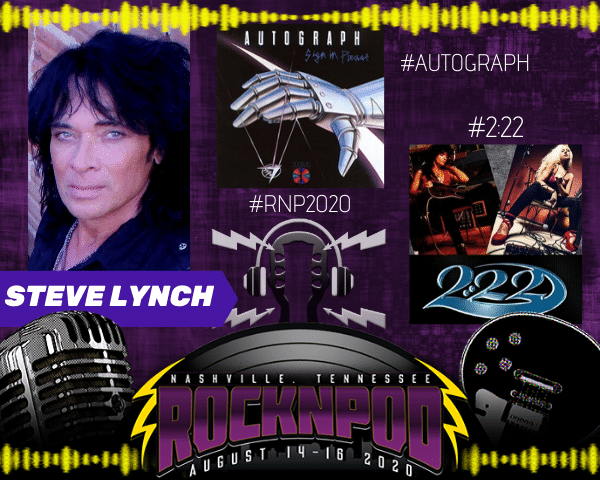 Steve Lynch To Appear At ROCKNPOD Weekend
THE GUITARIST SCORED GUITAR MAGAZINE'S GUITAR SOLO OF THE YEAR ALONG WITH A TOP 30 SINGLE
We're thrilled to announce that former Autograph guitarist Steve Lynch will be a guest at  ROCKNPOD!
Steve Lynch (born January 18, 1955 in Seattle, Washington), also known as The Two-Handed Guitarist, is an American hard rock/heavy metal guitarist, as well as an instructor for the Guitar Institute of Technology, the famous guitar department in the Musician's Institute of Los Angeles. He decided to commit himself to music and the guitar the day of Jimi Hendrix's passing on September 18, 1970.
In addition to Jimi Hendrix, Lynch's early musical influences came from late-1960s and early-1970s British musicians, such as Led Zeppelin, Pink Floyd, and The Beatles.
He originally played bass guitar, and Jimi's death influenced him to switch. Lynch gradually developed his trademark two-handed (8-finger) guitar shredding technique throughout the 1970s and into the mid-1980s.
He finally reached national acclaim in the mid-1980s, when his then-current band, Autograph, scored a hit with "Turn Up the Radio," which reached No. 29 on the Billboard Hot 100. Lynch's work on this track helped earn him "Guitar Solo of the Year" honors from Guitar Magazine. He formed another band, Network 23, in 1990, shortly after Autograph had disbanded. 
Lynch has published several books and instructional videos on his guitar style throughout his career. He also works as a guitar teacher, teaching: the art of composition and his tapping technique.
In 2019 Steve left Autograph to concentrate on a new project, Project 2:22, that features Nashville recording artist, Alena Rae. The two are currently engaged. Steve and Alena will both be joining us as guests at ROCKNPOD in 2020. 
Here's the video for the top 30 track Turn Up The Radio:
ROCKNPOD Weekend takes place August 14-16 in Nashville TN 
Preparty concert on Friday (08.14) at Mercy Lounge
ROCKNPOD Expo on Saturday (08.15) with special guests including current and former members of Tesla, Fear Factory, KEEL, Saigon Kick, TNT, KIX, with More being added! 
Rock n Roll Double Feature Screening on Saturday night(08.15) of The Greatest Show on Earth (KISS Fan Film) and KISS Meets the Phantom of the Park with live comedian commentary! 
Punchlines & Backlines Comedy Show on Sunday night (08.16) at Zanies Comedy Club (guests TBA).
Full details available at Rocknpod.com!
Tickets & VIP: https://www.nashvillerocknpodexpo.com/ticketing/
Celebrity Guests: https://www.nashvillerocknpodexpo.com/guests/
Hotel Discount: Book your room to save money and stay on site! 
https://www.nashvillerocknpodexpo.com/hotel/
#stevelynch #autograph #alenarae #project222 #222 #rocknpod #rocknpod2020 #rocknpodexpo #convention #expo #fanexpo #rock #metal #music #festival #tradeshow #podcast #podcastexpo #podcastlife #conference