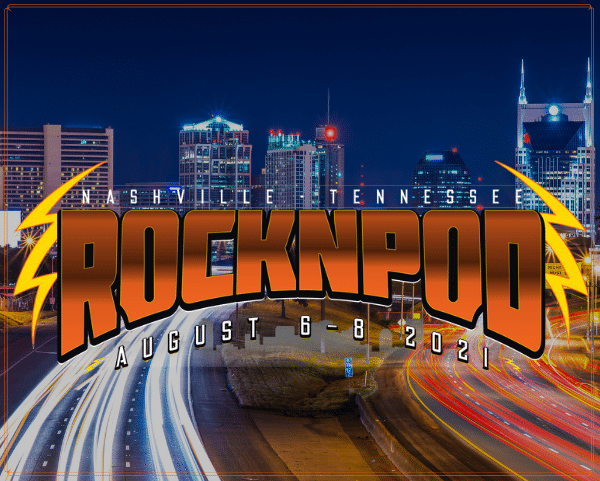 ROCKNPOD 2021 is On!
It's been a long time since we've rocked and rolled but that'll change August 6-8 as ROCKNPOD Weekend will take place in Nashville, TN!
Friday August 6th will feature a preparty concert with performances by Resist & Bite!
Resist & Bite is the great new band from guitarist Tommy Skeoch (formerly of Tesla & Bar 7). The band features drummer David Parks (Derek St. Holmes/Casey James), vocalist Nathan Utz (Lynch Mob/Blonz), bassist Brian Powell (Jason Michael Carroll), and guitarist Steven Stokes (Southern Rock Revival). The band recently finished production on their debut album with producer Michael Rosen (Santana, Journey, Death Angel, Testament etc) in Nashville.
Additionally, the preparty will feature a special Rare Hare set! The Rare Hare concept is the brainchild of Tyson Leslie (Vixen) and features numerous pro Nashville players and special guests covering great hard rock and classic metal songs (deep cuts too!). This special Rare Hare set will feature several ROCKNPOD Expo guests getting on stage!
Tickets and venue details will be announced in the future so stay tuned!
Saturday August 7th will be the annual gathering of rock fans, podcasters, artists, and vendors at the ROCKNPOD Expo! This expo, now in it's 4th year, features main stage panels with special guests, live podcast sessions, signing/photo sessions with artists, tons of vinyl and memorabilia vendors, a cosplay contest, and acoustic performances! It's a great hang and you don't want to miss it!
Current guests announced include Ron Keel, Tommy Skeoch, Resist & Bite, Don Jamieson, and many more! See the full list at www.nashvillerocknpodexpo.com/guests
Our host venue, Hilton Nashville Airport, is graciously offering discounted rooms so you can stay on-site and not miss a moment of the fun! See link below!
Other special events are being planned now including an afterparty movie screening and a comedy show! Stay tuned to www.rocknpod.com for all the details as they are announced!
Buy tickets and VIP passes to ROCKNPOD weekend at www.nashvillerocknpodexpo.com/ticketing
Get your discounted ROCKNPOD room at Hilton Nashville Airport at www.nashvillerocknpodexpo.com/hotel
Register as a podcaster to get access to table space, education track, and on-site interviews at www.nashvillerocknpodexpo.com/podcasters
We'll see YOU in Nashville August 6-8 for ROCKNPOD Weekend!