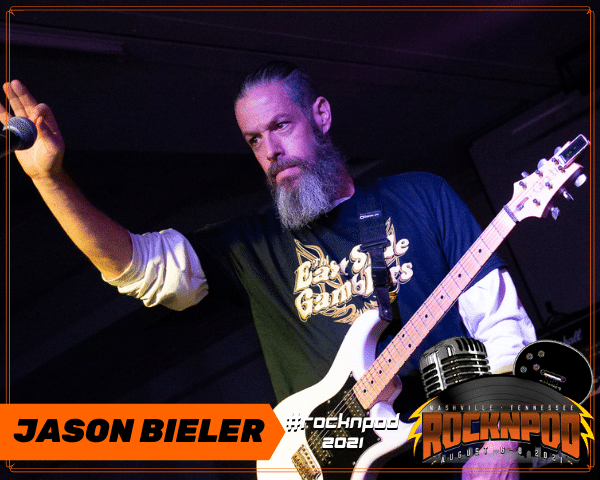 Jason Bieler To Appear At ROCKNPOD EXPO 2021
JASON BIELER RETURNS FOR ROCKNPOD EXPO 2021

We're excited to announce that Jason Bieler will be joining us for the ROCKNPOD Expo!
Jason Bieler is a singer, guitarist, and songwriter who is most famous for playing with hard rock band Saigon Kick. He has also played in other bands, including an early touring version of Talisman and Super TransAtlantic, which also featured several other Saigon Kick members and Extreme bassist Pat Badger as well as doing acoustic tours with Jeff Scott Soto.
A post-apocalyptic troubadour with a penchant for the sonically grotesque. Listen on Spotify http://spoti.fi/2z5twuE  or Bandcamp http://bit.ly/2janQsE Guitarist, hand model, songwriter, amateur surgeon, quipster, director of frivolity & music freak.
His great new album 'Songs for the Apocalypse' by Jason Bieler and the Baron Von Bielski Orchestra is now available on Frontiers Records.
ROCKNPOD Weekend takes place August 6-8 in Nashville TN. Full details available at Rocknpod.com!
Tickets: https://www.nashvillerocknpodexpo.com/ticketing/
Guests: https://www.nashvillerocknpodexpo.com/guests/
Venue/Hotel: ROCKNPOD 2021 takes place at the Hilton Nashville Airport!
Hotel Discount: Book your room to save money and stay on site! https://www.nashvillerocknpodexpo.com/hotel/
#jasonbieler #saigonkick #thelizard #water #baronvonbielski #rocknpod #rocknpod2021 #rocknpodexpo #convention #expo #fanexpo #rock #metal #music #festival #tradeshow #podcast #podcastexpo #podcastlife #conference