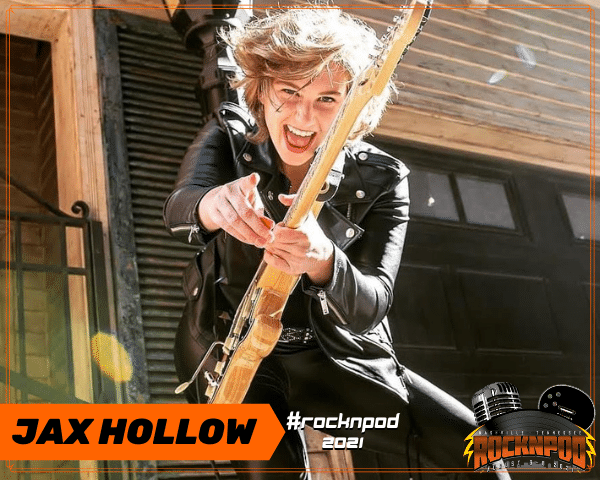 Jax Hollow
JAX HOLLOW WILL BE AT ROCKNPOD EXPO 2021
We're excited to announce that Jax Hollow will be joining us for the ROCKNPOD Expo!
For those of you that believe rock music is dead, meet Jax Hollow.
Jax Hollow is a Revival Rock artist and singer-songwriter hailing from Nashville, TN.  Jax has debuted on the scene with a fresh and unique blend of classic rock, blues, and rock & roll.  Her music stands out with a refreshing pop spin on the throwback rock music explosion.  Like a blend of Jimmy Page, Pat Benatar, and Chris Stapleton, Jax Hollow is a performer that's here to stay with her incredible musical chops, heart-piercing voice, and authentic songwriting ability.
Jax Hollow was created during the summer of 2020 as the stage name of Jess LaCoy.  The journey began with her creating a series of one-take music videos; no edits, just raw, live and intimate performances underlining the core values of her songwriting and artistry.  Her videos caught the attention of two legendary rock producers, Ron Nevison (Zeppelin, Heart) and Michael Wagener (Metallica, Skid Row), the latter with which she worked to create her debut Jax Hollow album, Underdog Anthems.
Jax Hollow is turning heads with her most recent debut; she is the real, authentic deal, and will help carry the torch for new rock.  As one Nashville's radio station puts it, "2021 is the year of Jax Hollow and I will die on this hill" (Andy Herrin, 102.9 The Buzz)."
Jax will be on hand at the ROCKNPOD Expo Saturday August 7th to meet fans, participate in a special panel being planned, and interview with several of the podcasts on-site.
ROCKNPOD Weekend takes place August 6-8 in Nashville TN. Full details available at Rocknpod.com!
Tickets: https://www.nashvillerocknpodexpo.com/ticketing/
Guests: https://www.nashvillerocknpodexpo.com/guests/
Venue/Hotel: ROCKNPOD 2021 takes place at the Hilton Nashville Airport!
Hotel Discount: Book your room to save money and stay on site! https://www.nashvillerocknpodexpo.com/hotel/
#jaxhollow #underdoganthems #michaelwagener #saymyname #womenwhorock  #rocknpod #rocknpod2021 #rocknpodexpo #convention #expo #fanexpo #rock #metal #music #festival #tradeshow #podcast #podcastexpo #podcastlife #conference