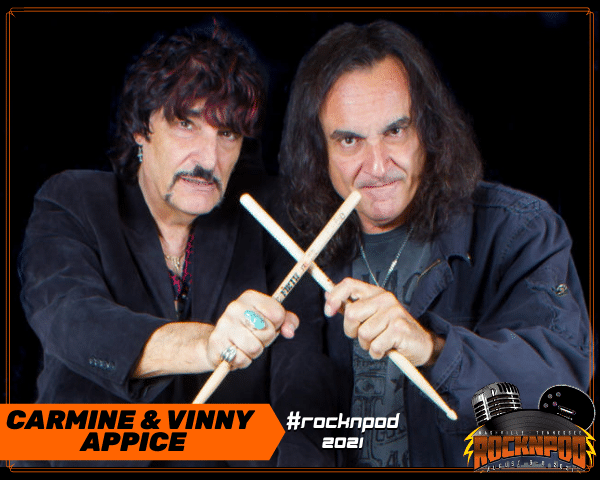 Carmine Appice & Vinny Appice – The Appice Brothers
DRUMMING LEGENDS CARMINE & VINNY APPICE – THE APPICE BROTHERS TO APPEAR AT ROCKNPOD
We're excited to announce that legendary drummers Carmine Appice (Blue Murder, Vanilla Fudge, King Kobra) and Vinny Appice (Black Sabbath, Dio)  will be joining us for ROCKNPOD Weekend!
Carmine & Vinny will be on hand at the ROCKNPOD Expo Saturday, August 7th at Hilton Nashville Airport to meet fans, do interviews, and do a special meet & greet session.
Additionally, Carmine and Vinny will be doing Drum Master Classes at S.I.R. Nashville on Sunday, August 8th as well as a live discussion of their history in rock music in front of an audience! Ticket links for these S.I.R. special events coming soon.
As drummer for Vanilla Fudge, Carmine Appice set the grooves for the groundbreaking band's 1967 psychedelic debut, inadvertently inventing Stoner Rock in the process. Their debut album still stands today as a Hard Rock classic. Vanilla Fudge went on to tour with Jimi Hendrix, Cream and even had Led Zeppelin as an opening act.
Post-Fudge, Bogert, and Appice formed Cactus (seen as an influence on King's X and Van Halen). Post-Cactus, the rhythm section found Grammy-winning Guitar Hero Jeff Beck to form the first supergroup: Beck, Bogert & Appice (BBA).
One of the premier showmen in rock, Appice became known worldwide for his astonishing live performances, in addition to becoming a highly sought-after session drummer, recording with countless artists throughout his career. In '76, he joined Rod Stewart's band, touring, recording, and writing two of Stewart's biggest hits, "Do Ya Think I'm Sexy" and "Young Turks". He left Stewart to record his first solo album, "Rockers", and tour Japan and North America with an all-star band. . In the early '80s, he toured with OZZY Osborne, Ted Nugent. In the mid-'80s, he formed King Kobra for two Capitol albums and international touring And in the late '80s, Carmine played on a Pink Floyd record "Momentary Lapse of Reason" and formed Blue Murder with Whitesnake's John Sykes and The Firm's Tony Franklin. In the early 90s, he pounded away soul-style for The Edgar Winter Group.
As an educator, Carmine was the first to legitimize rock drumming with his landmark book, The Realistic Rock Drum Method, selling over 400,000 copies (now in video format). He was the first Rock Drummer and Rock Musician to conduct instructional clinics and symposiums around the world. 
Vinny Appice's unique, powerful drumming is marked not by his performances with a single group, but by his flawless musical contributions to an extensive list of rock and roll icons like Black Sabbath, Ronnie James Dio, Heaven & Hell, Rick Derringer, John Lennon, and more!
A consummate performer and drummer, Vinny also is a brilliant clinician, performing clinics and master classes all across the globe as well as making appearances in films and television.
Vinny Appice, has anchored the rhythm and power live and in the studio for the music of DIO, BLACK SABBATH, HEAVEN AND HELL, WWIII, AXIS, RICK DERRINGER, JOHN LENNON, and more. He has recorded and co-written songs on over 25 albums and CDs including many multi-platinum records. Touring the world for over 2 decades resulted in selling millions of records!
ROCKNPOD Weekend takes place August 6-8 in Nashville TN. Full details available at Rocknpod.com!
Tickets: https://www.nashvillerocknpodexpo.com/ticketing/
Guests: https://www.nashvillerocknpodexpo.com/guests/
Venue/Hotel: ROCKNPOD 2021 takes place at the Hilton Nashville Airport!
Hotel Discount: Book your room to save money and stay on site! https://www.nashvillerocknpodexpo.com/hotel/
#carmineappice #vinnyappice #blacksabbath #bluemurder #dio #vanillafudge #kingkobra #drumlegend #rocknpod #rocknpod2021 #rocknpodexpo #convention #expo #fanexpo #rock #metal #music #festival #tradeshow #podcast #podcastexpo #podcastlife #conference