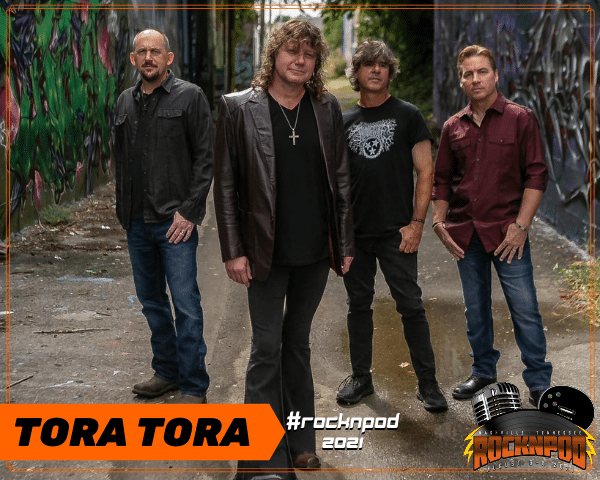 Tora Tora
TORA TORA RETURNS TO ROCKNPOD EXPO
We're excited to announce that Tora Tora will be joining us for the ROCKNPOD Expo!
TORA TORA, formed in Memphis, TN in the late 1980s, includes band members include Keith Douglas, Patrick Francis, John Patterson, and Anthony Corder.  
TORA TORA has two major releases Surprise Attack/Wild America through A&M Records that promoted five singles and videos (Walkin' Shoes, Guilty, Phantom Rider, Amnesia and Faith Healer).  
The band has six independent releases, The Warehouse Sessions, Bombs Away, Miss B. Haven, Before and After, Revolution Day, and a live performance concert Live from Minglewood, in Memphis #ROCKOUTCANCER. The band is currently working on the follow-up to their Frontiers Records release 'Bastards of Beale.'
Live appearances have been at festivals Rocklahoma, Farm Rock, Rock & Skull, and Monster of Rock Cruise. 
TORA TORA will be at ROCKNPOD meeting fans, signing autographs, and recording with several of the podcasts on-site.
ROCKNPOD Weekend takes place August 6-8 in Nashville TN. Full details available at Rocknpod.com!
Tickets: https://www.nashvillerocknpodexpo.com/ticketing/
Guests: https://www.nashvillerocknpodexpo.com/guests/
Venue/Hotel: ROCKNPOD 2021 takes place at the Hilton Nashville Airport!
Hotel Discount: Book your room to save money and stay on site! https://www.nashvillerocknpodexpo.com/hotel/
#toratora #memphismade #surpriseattack #wildamerica #rocknpod #rocknpod2021 #rocknpodexpo #convention #expo #fanexpo #rock #metal #music #festival #tradeshow #podcast #podcastexpo #podcastlife #conference