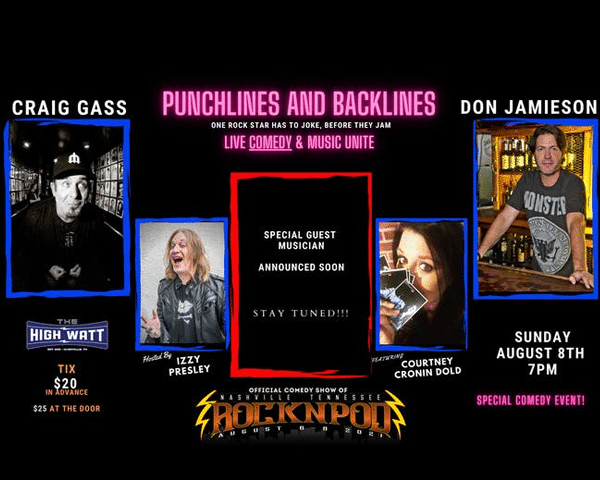 Punchlines And Backlines With Don Jamieson And Craig Gass
COMEDY RETURNS TO ROCKNPOD WEEKEND IN THE FORM OF PUNCHLINES AND BACKLINES
PUNCHLINES AND BACKLINES IS CRAIG GASS, DON JAMIESON, COURTNEY CRONIN DOLD, AND IZZY PRESLEY + SPECIAL SURPRISE GUEST
Punchlines and Backlines TWO HEADLINER SPECIAL EVENT with Don Jamieson and Craig Gass – featuring Courtney Cronin Dold
PUNCHLINES AND BACKLINES – COMEDY AND MUSIC UNITE!
The show where one rock star has to joke before they can jam!
That's right! One of our favorite rock musicians will be doing their first-ever stand-up comedy set, (with some help from the pros) then closing out the show with a few tunes.
IT'S THE ONE-OF-A-KIND COMEDY MUSIC SHOW YOU DO NOT WANT TO MISS!
SPECIAL EVENT WITH TWO HEADLINERS!
CRAIG GASS (Howard Stern, Sex & The City, Family Guy, Kiss Kruise) www.getgass.com
DON JAMIESON (That Metal Show, That Jamieson Show, Monsters of Rock) www.donjamieson.com
Featuring COURTNEY CRONIN DOLD (Showtime, HBO, Kiss Kruise) www.courtneycronindold.com
hosted by IZZY PRESLEY (Monsters of Rock, Another F'ing Podcast) https://www.spreaker.com/user/izzypresley
SPECIAL GUEST MUSICIAN WILL BE ANNOUNCED SOON!
Another F'ing Podcast
,
comedy
,
Conference
,
convention
,
courtney cronin dold
,
craig gass
,
don jamieson
,
expo
,
Family Guy
,
fanexpo
,
festival
,
HBO
,
Howard Stern
,
Izzy Presley
,
Kiss Kruise
,
metal
,
Monsters of Rock
,
music
,
podcast
,
podcastexpo
,
podcastlife
,
rock
,
rocknpod
,
rocknpod2021
,
ROCKNPODEXPO
,
Sex & The City
,
showtime
,
That Jamieson Show
,
That Metal Show
,
The Hight Watt
,
tradeshow