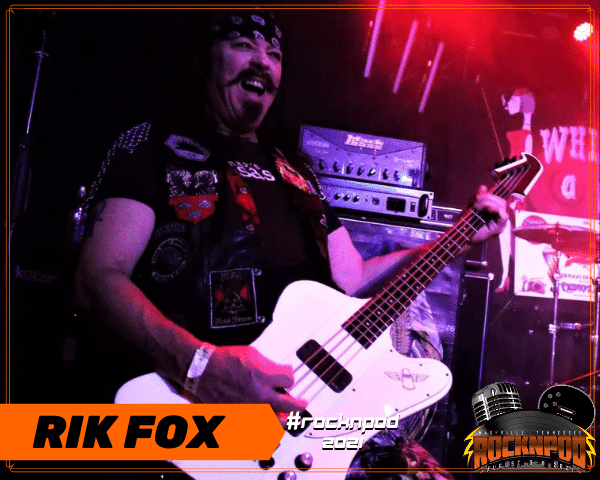 Rik Fox
RIK FOX WILL BE COMING TO ROCKNPOD 2021
RIK FOX FORMERLY OF STEELER, W.A.S.P., AND SIN
We're excited to announce that Rik Fox (Steeler, Sin) will be joining us for ROCKNPOD Weekend!
"RiK FOX, "The Winged Knight of Heavy Metal", a veteran of the mid-1970's New York City Max's Kansas City and CBGB'S rock scene and the New Jersey club circuit, at the request of Blackie Lawless, to audition for his band Sister, Rik Fox arrived on the Los Angeles rock scene in February 1982, just in time to ride the wave of greater notoriety after becoming the bassist for what became WASP and recording with and naming the band, before moving on, and building his chops with Warlord, before making his Los Angeles debut with the legendary seminal cornerstone Heavy Metal band Steeler, with Ron Keel and Yngwie Malmsteen. 
Rik recorded on the now-classic Steeler album, before moving on with his own band SIN, on the threshold of becoming the "next big thing" amongst the L.A. scene bands, before succumbing to disintegration at the unscrupulous hands of their producer and management. 
In the late 1980s,  Rik pressed on performing and recording with Surgical Steel, while performing twice, as a guest with Ronnie James Dio, Sam Kinison, and KISS ' Mark St. John, among many others before moving on to a hiatus in the 1990s and worked in the Hollywood film industry with many stars, while simultaneously participating in "Living History" events and Renaissance Fairs, creating the first officially acknowledged representation of his noble, ancestral Polish Winged Hussar knights, in the U.S., making U.S. History.
Keeping busy, Fox served five years (1995-2000), as a Communications NCO in the California State Military Reserve, and is currently an active First Responder member of CERT (Community Emergency Response Teams), under FEMA and DHS, as well as a licensed Security Enforcement Officer and a licensed Ham Radio operator. 
Rik re-entered the music scene in 2012, and began doing guest spots in 'All-Star' jams with various bands in the Southern California music scene, including a guest appearance with his former Steeler bandmate Ron Keel at The Whisky a Go-Go, culminating in the seeds of what would eventually become the formation of the Steeler reunion during 2019's KEELFEST, held at The Alrosa Villa club in Columbus, Ohio, forever shutting down the rumors that any Steeler reunion was a just pipe dream and never perform together again…
Just prior to that,  Rik also recorded bass tracks for two songs, with legendary Sabbath/Dio drummer Vinny Appice and Angel's Frank DiMino on the All-Star Jim Crean "London Fog" album.
Although the Los Angeles music scene had become a shadow of its former self, throughout 2018 to 2020, Rik Fox kept active, performing with two of the top Los Angeles tribute bands; "Strangers in the Night" the top UFO tribute band and, "Child in Time", the top Deep Purple tribute band, and, on several gigs, performing with BOTH bands together on the same bill!
Known for his affiliation to KISS from the very early days, (before Ace Frehley was in the band), Rik Fox's rare photographs of the band have been published in the New York Times bestseller "Nothing to Lose; The Making of KISS, 1972-1975" by Ken Sharp and, in June 2021, several of his early KISS photos are scheduled to be in the A&E Networks' KISS Biography, courtesy of KISS author Curt Gooch. 
Recently relocated to Missouri with his wife, Rik Fox's accomplishments, career and accolades are many, too many to be listed here. But, his career is a long and distinguished one. There is even news circulating, of some Steeler recording plans in the foreseeable future, so, stay tuned…"
ROCKNPOD Weekend takes place August 6-8 in Nashville TN. Full details available at Rocknpod.com!
Tickets: https://www.nashvillerocknpodexpo.com/ticketing/
Guests: https://www.nashvillerocknpodexpo.com/guests/
Venue/Hotel: ROCKNPOD 2021 takes place at the Hilton Nashville Airport!
Hotel Discount: Book your room to save money and stay on site! https://www.nashvillerocknpodexpo.com/hotel/
#rikfox #steeler #sin #bass #wasp #rocknpod #rocknpod2021 #rocknpodexpo #convention #expo #fanexpo #rock #metal #music #festival #tradeshow #podcast #podcastexpo #podcastlife #conference 
bass
,
Conference
,
convention
,
expo
,
fanexpo
,
festival
,
metal
,
music
,
podcast
,
podcastexpo
,
podcastlife
,
rikfox
,
rock
,
rocknpod
,
rocknpod2021
,
ROCKNPODEXPO
,
sin
,
Steeler
,
tradeshow
,
wasp