SATURDAY JULY 23, 2022 NASHVILLE, TN
Bowies
174 3rd Ave N
Nashville, TN 37201
PRESENTED BY DGB PRODUCTIONS
SATURDAY JULY 23, 2022 NASHVILLE, TN
Bowies
174 3rd Ave N
Nashville, TN 37201
PRESENTED BY DGB PRODUCTIONS
COUNTDOWN TO ROCKNPOD RETREAT
ROCKNPOD was started in 2017 as a gathering of music podcasters, artists, fans, and vendors to celebrate the music they love. It quickly became a great event for networking, connections, and fellowship among like-minded people. The ROCKNPOD Expo will be taking place in April of 2023. In the meantime, we welcome podcasters and content creators of ALL stripes to the ROCKNPOD Retreat in Nashville this July.
ROCKNPOD Retreat is a full day of great activities for music podcasters and content creators in downtown Nashville, TN. Morning sessions feature expert speakers giving you tips and valuable info on ways to grow your brand, expand your audience, and improve your output. Mid-day features a guided tour of the Musicians Hall of Fame. Take a walk through music history in this awesome venue. The day wraps up with a great concert featuring two awesome bands. It's a great way to network, see Music City, and make lasting connections. 
ROCKNPOD RETREAT SPEAKERS
Its a long way to the top: especially with bad advice.
If you ever asked your audience to Rate and Review your show – then this is a Session you really MUST attend. 
In Podcasting often times the price of Advice in inversely proportional to its actual value.  Promises of guaranteed audience growth are not just misleading they are out right lies.  This session will go over some of the bad advice and myths in podcasting.  It will give you advice based on actually looking at what worked, what did not work and from talking to those running the different aggregator apps. 
Rob Walch was inducted into the Podcasting Hall of Fame in 2016 and is the VP of Enterprise and Platform Partnerships for Libsyn. He is Co-Author of the book "Tricks of the Podcasting Masters" – Que 2006, an editors pick Top10 Reference book for 2006 by Amazon. Rob started podcasting in 2004 as host of the podCast411 podcast. He has consulted on podcasting for Jack Welch, eBay and Tim Ferriss to name just a few.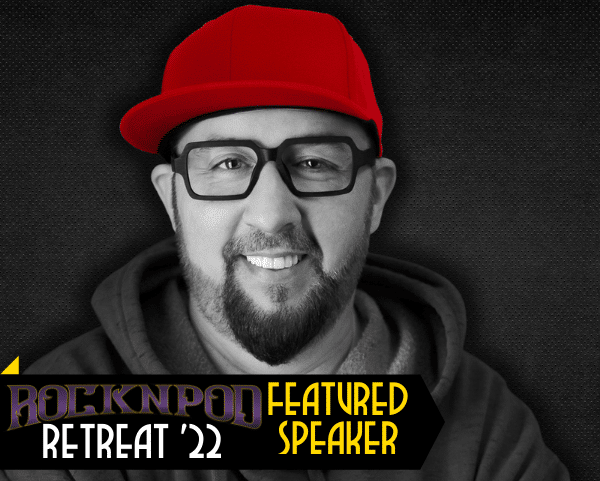 We're excited to announce that Larry Roberts will be a featured speaker at the upcoming ROCKNPOD Retreat on July 23rd in Nashville! Best described as a high-energy and charismatic podcaster, keynote speaker, best-selling author, and international top-rated course creator with over 1500 students in 51 countries, Larry Roberts has been in coaching and facilitator roles for more than 25 years from corporate environments to teaching martial arts to online course creation. Over the last several years, he has grown to be one of the most highly sought-after podcasting coaches and content creators in the industry with a feature in Podcast Magazine in April 2020 while being editor-in-chief of one of the largest podcast industry newsletters, The Podfest Messenger and regularly speaking at industry events, participating in industry panels and appearing on other podcasts. See details below on Larry's session and be sure to register for the ROCKNPOD Retreat go here.
Building a Strong Personal Podcast Brand | Standing Out in Crowded Market Place Do you want to build a personal podcast brand that will position you to profit from your creative passion? The key is to have self-awareness and the self-esteem to follow through. You must be willing to be YOU! Podcasting allows us to realize the benefits of presenting ourselves, our brand, and our message in multiple formats. The flexibility of the content allows you to present your personality with greater authenticity, transparency, and trustworthiness in a much stronger way than simple social media posts or ads. This clearly defined message is seen and better yet, felt through your actions and the tonality of your voice in a way that allows you to stand out. Register NOW.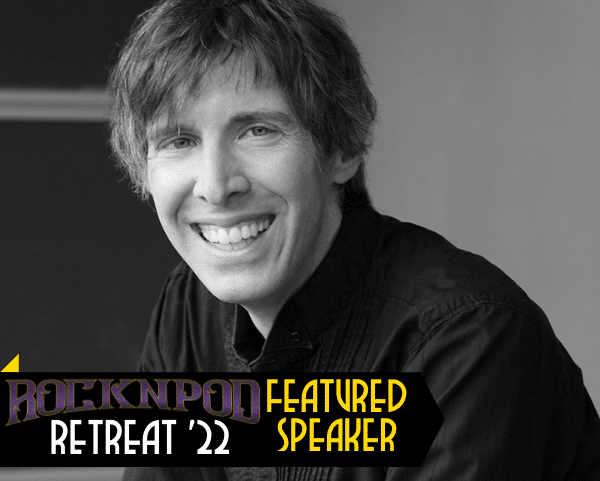 We're excited to announce that David Hooper will be a featured speaker at the ROCKNPOD Retreat in Nashville this July! Since 2005, David Hooper has hosted the weekly radio show, Music Business Radio, interviewing everybody from Rob Halford to Richard Marx, to The Doobie Brothers about their music careers as well as showcasing live, in-studio performances. HOW TO DOUBLE THE AUDIENCE OF YOUR MUSIC PODCAST In this session, David shares easy-to-implement promotion strategies to help you leverage your music (and musician) content to grow your audience, get more attention for your podcast, and make more money. You'll learn how to improve your distribution, have more effective promotion, and create episodes fans love (and will share). Get more details and REGISTER to join us for the ROCKNPOD Retreat , register HERE!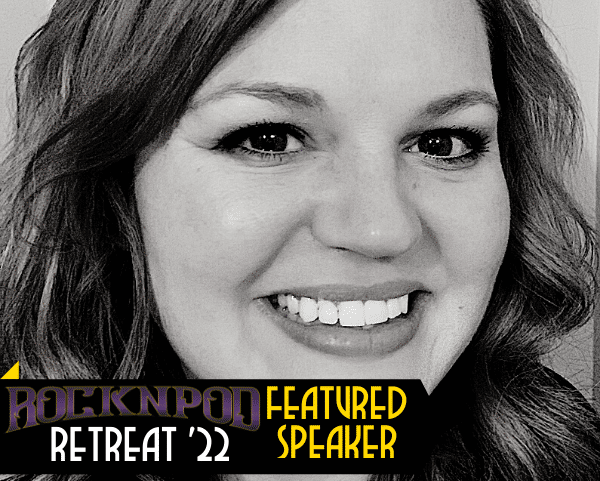 We're excited to announce that Susan Hamilton will be a featured speaker at the upcoming ROCKNPOD Retreat on July 23rd in Nashville! Susan, a self-described life-long band nerd and strong advocate for proper grammar, began her musical adventures at age 9 at a piano keyboard.  While her heart told her to pursue music as a career, she decided that the world needed at least one more scientist;  Susan then headed to North Carolina State University, where she spent most of her time in the music department.  After graduation, she spent almost a whole year setting accidental fires in a chemistry lab and decided to seek her fortune as an attorney.  After graduating with a law degree from Texas A&M University School of Law, she started her practice in Tennessee. In 2013, Susan founded a music blog, and in 2015 founded another (because one just wasn't enough) to scratch her creative itches. In keeping with the question "What don't you do?" which she hears on a regular basis, Susan closed her law practice in 2017 to pursue a new career in public relations in Nashville. She currently heads up the Nashville office as a Communications Director/Senior Publicist for Los Angeles-based PR firm Sideways Media, where she helps artists tell their stories. She regularly deletes important apps on her iPhone to make room for more podcast downloads. See details below on Susan's session and be sure to register for the ROCKNPOD Retreat HERE!
"I Want You To Want Me: Working With PR Reps To Book Your Dream Guests" Podcasts are an integral piece in the public relations puzzle, providing valuable exposure for artists and their music. Podcasters–publicists want to work with you! In our session we'll discuss: -What artists' representatives look for in a podcast -Best practices and tips on how to approach and secure intriguing guests -Tips on promoting and making the most of the connection Register for the ROCKNPOD Retreat HERE!
ROCKNPOD RETREAT SCHEDULE
8:00 am
Podcast Workshops / Guest Speakers @ Bowies
---
Pickup valuable tips on growing your audience

Expand your audience via social media expertise

Learn top practices for getting interview guests

Bowies Nashville
3:00 PM
Guided Museum Tour w/Jay McDowell @ Musicians Hall Of Fame
---
Each Exhibit tells the story of a musician that you may have heard but may have never seen

The one and only museum in the world that honors the talented musicians who actually played on the greatest recordings of all time

tour guided by curator (and member of BR5-49) Jay McDowell

Musicians Hall Of Fame & Museum Backstage
6:00 PM
Powerslave (The Iron Maiden Experience) & Rock United @ Bowies
---
Hight-energy from start to finish, POWERSLAVE loves performing for Iron Maiden fans bringing with them a custom light show, stage production, and of course, Eddie

Rock United's catalog of song hits range from Aerosmith to ZZ Top and every great rock band in between

Bowies Nashville
THE NEXT ROCKNPOD WEEKEND IS PLANNED FOR APRIL 2023. STAY TUNED FOR ANNOUNCEMENTS.