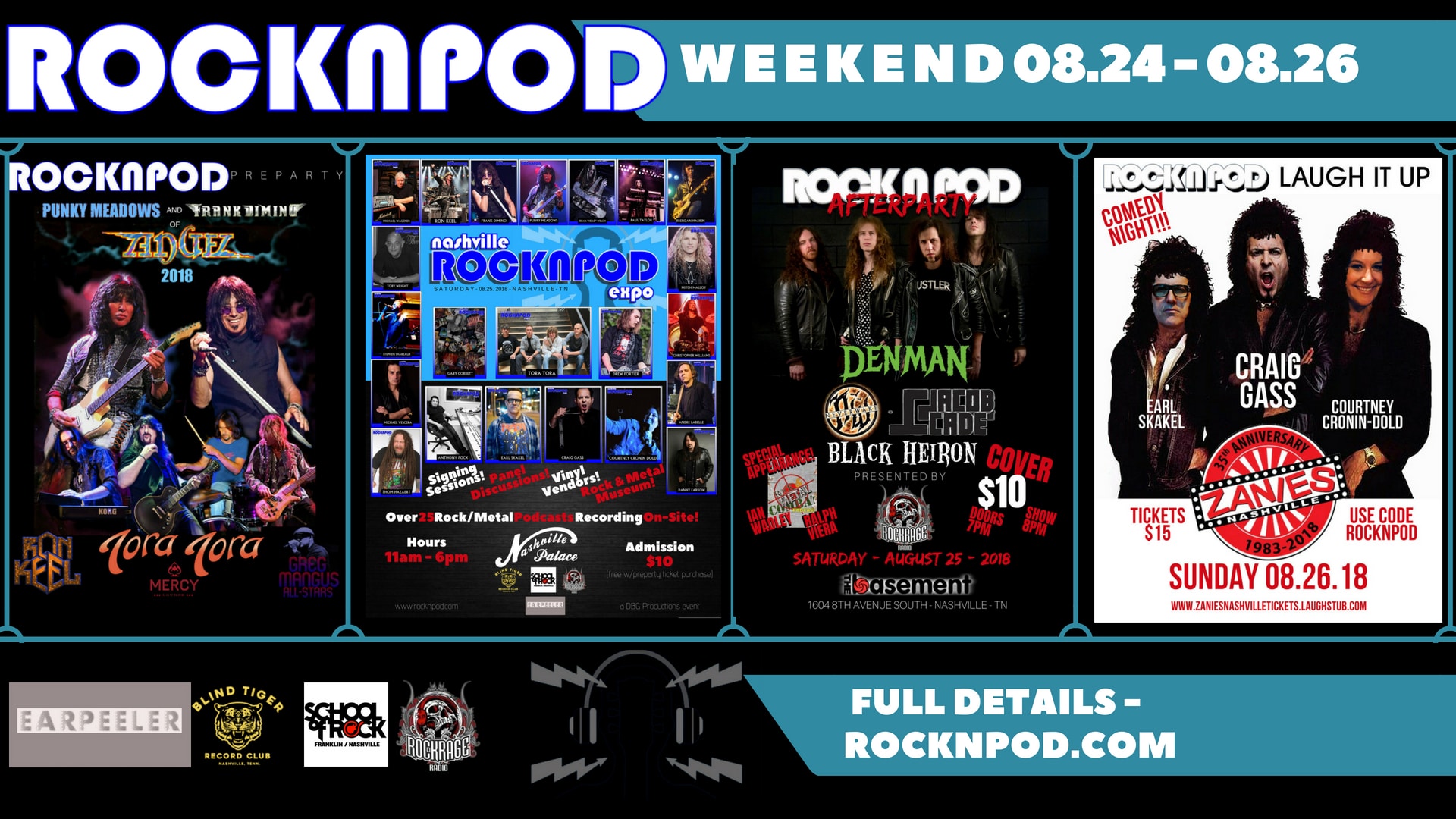 Everything You Wanted to Know about ROCKNPOD Weekend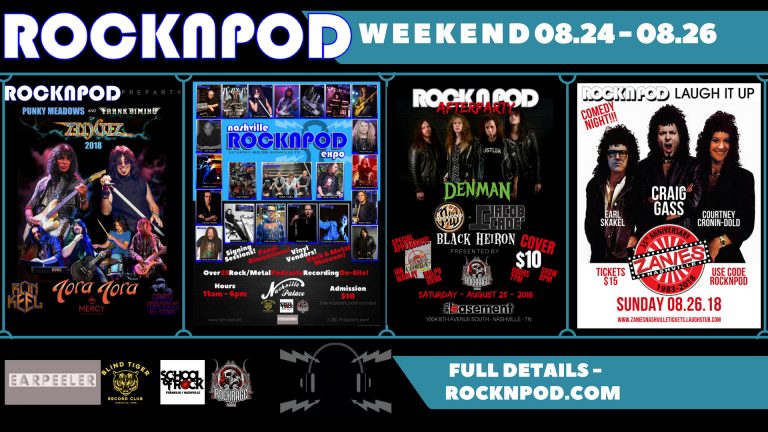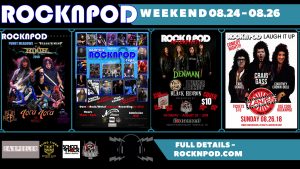 So, there's a lot of moving parts to this expo and everything around it. We get it. We've had numerous questions about what it is, when are certain things happening, etc. With that in mind, I thought it best to put as much info as we can into one post so you can have your questions answered and have a reasonable expectation for the great weekend we have in store at the end of August.

What is ROCKNPOD?

ROCKNPOD is the brainchild of BJ Kramp and myself. BJ hosts the awesome Rock and/or Roll Podcast and I co-host the Decibel Geek Podcast. After becoming friends with a number of other rock podcasts we always kept coming back to the same query; "Wouldn't it be cool if we could all meet up?? Then, we thought about crowdfunding a podcaster meetup through our respective listenerships. That idea led to us deciding on Nashville as a good location to do the meetup. From there, it seemed natural to invite some of the rock-related guests that we've had on our shows to come to do interviews with some of the podcasters.
On top of that, it seemed that the general public might like to see these rock stars and learn about podcasting. From there, we figured it would be cool to bring in vinyl and memorabilia vendors. ROCKNPOD was born in the most organic way.
About Rock Podcasting – In today's musical landscape, rock music (ie. guitar-based) is quickly being pushed off the mainstream radar. Mainstream radio promotes rock from a nostalgic point of view; choosing to focus on a handful of hits from classic bands and all but ignoring young, up-and-coming talent. Rock podcasting fills that gap.
Rock podcasts are hosted by true fans of the music and the following that many of these shows have is a testament to that passion. No longer "just a hobby," rock podcasting is quickly becoming the go-to place for classic rock bands as well as young, guitar-based talent for spins, exposure, and promotion.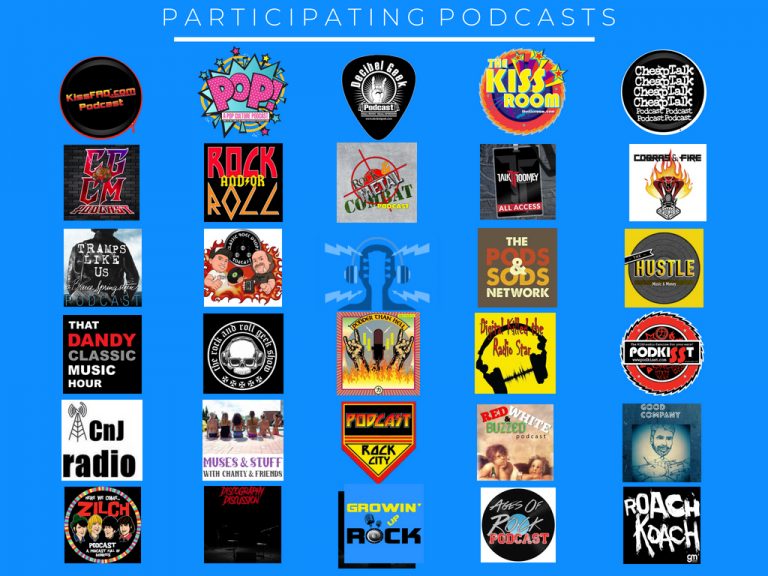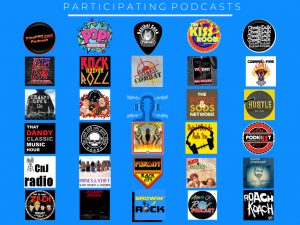 The audience reach of podcasts participating in this year's expo numbers in the hundreds of thousands with TOTAL AUDIENCE DOWNLOAD NUMBERS IN THE TENS OF MILLIONS.


ROCKNPOD is now in its second year in Nashville. The first year was a definite success; bringing in over 25 podcasts from all over North America, numerous rock-related musicians and personalities for panel discussions, signing sessions, and interviews with the podcasts as well as vinyl and memorabilia vendors. Numerous friendships were made and the loose atmosphere made it a day to remember. That brings us to 2018.

ROCKNPOD is now a three day experience!
The weekend kicks off on Friday August 24th at Mercy Lounge in downtown Nashville for the ROCKNPOD PREPARTY featuring Frank Dimino and Punky Meadows of Angel, Tora Tora, Ron Keel, and Greg Mangus All Stars. It's going to be an incredible night of music! PLEASE NOTE – If you purchase a ticket for the ROCKNPOD PREPARTY you get automatic admission into the ROCKNPOD EXPO the following day! (This deal only available through 08.15.2018).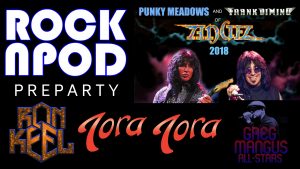 Buy your tickets to the ROCKNPOD Preparty now at https://www.mercylounge.com/event/1720100-punky-meadows-frank-dimino-nashville/

The ROCKNPOD EXPO takes place Saturday August 25th at the legendary Nashville Palace! Over 25 rock podcasts recording on site! Rock musicians and celebrities including current/former members of Angel, KORN, Winger, Tora Tora, Starz, Beautiful Creatures, Bang Tango, Kik Tracee, Loudness, KEEL, and more! Panel Discussions, Signing Sessions, and Pics with your favorite celebrities! Vinyl and Memorabilia dealers selling the best in Rock Merchandise! More guests to be announced as we get closer to the expo date!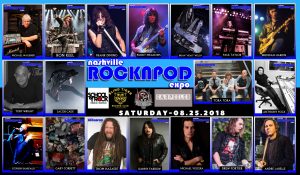 Buy your tickets for the ROCKNPOD EXPO at www.rocknpod.eventbrite.com

The ROCKNPOD AFTERPARTY takes place at The Basement in downtown Nashville directly after the ROCKNPOD EXPO on Saturday August 25th! The Afterparty features Nashville's own Denman, Jacob Cade, NeverWake and Black Heiron from Detroit to shred the walls down! The ROCKNPOD AFTERPARTY is presented by Rock Rage Radio and will be kicked off with a special appearance by Ralph Viera and Ian Wadley of the Rock & Metal Combat Podcast!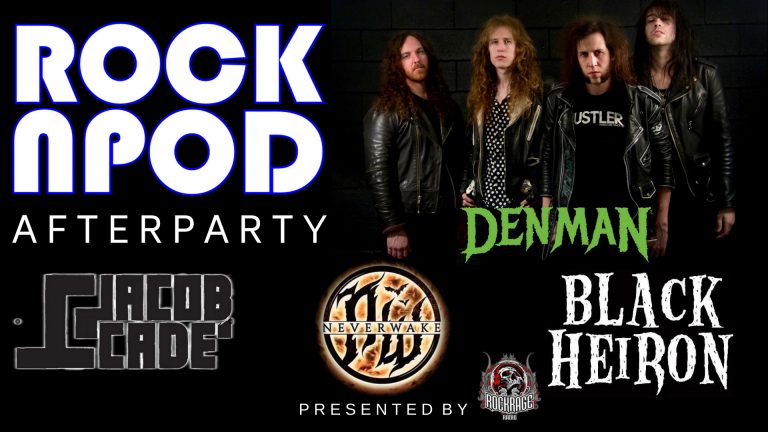 Buy your tickets for the ROCKNPOD AFTERPARTY at https://thebasementnashville.com/event/8512855/rocknpod-after-party-w-denman-silent-theory-jacob-cade-and-black-heiron/

Closing out the weekend is ROCKNPOD COMEDY NIGHT! This awesome night of laughs featuring Craig Gass, Earl Skakel (Inappropriate Earl Podcast), and Courtney Cronin Dold (Pop! Podcast) takes place at Zanies Nashville on Sunday August 26th. Doors open at 6:30pm and the show starts at 7:30pm. Expect LOTS of KISS-related comedy at this event!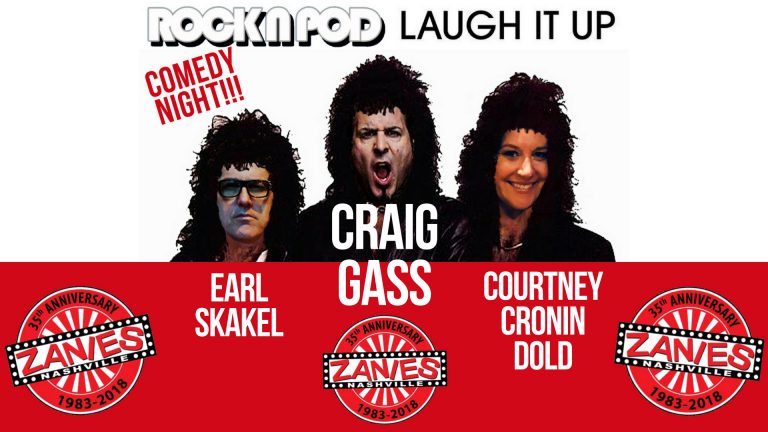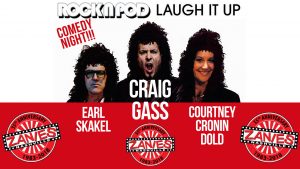 Buy your tickets for ROCKNPOD COMEDY NIGHT at https://zaniesnashvilletickets.laughstub.com/event.cfm?cart&id=510761

We hope you will join us for ROCKNPOD WEEKEND! As you can see, it's going to be a three day party with lots of cool people! Click the links above for more info and to secure your admission to any/all events!

I never could have envisioned what started out as a podcaster meetup to become such a great weekend of rock-releated fun. Your participation is a testament that ROCK'S NOT DEAD and will help soldify rock podcasting as a legitimate media source. We thank you for the support!

Chris Czynszak

ROCKNPOD Organizer
ROCKNPOD is brought to you by Blind Tiger Record Club, Rock Rage Radio, School of Rock Nashville, and School of Rock Franklin. ROCKNPOD – A DBG Productions event.
anthony focx
,
Bang Tango
,
Blind tiger
,
convention
,
ellefson
,
emp label
,
expo
,
Frank Dimino
,
franklin
,
greg mangus
,
hard
,
Hazaert
,
heavy
,
Jacob Cade
,
Keel
,
Kik Tracee
,
loud
,
meadows
,
metal
,
music
,
nashville
,
pod
,
podcast
,
podcasting
,
punky
,
rock
,
rock tage radio
,
rocknpod
,
Ron Keel
,
school of rock
,
Starz
,
tora tora