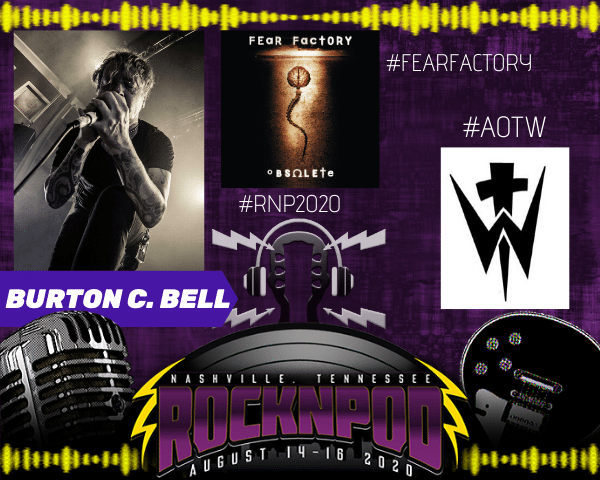 The mighty Burton C. Bell will be at ROCKNPOD Weekend
GRAMMY NOMINATED ARTIST AND LEAD SINGER OF FEAR FACTORY & ASCENSION OF THE WATCHERS
We're excited to announce that Burton C. Bell will be joining us at ROCKNPOD!
Burton C. Bell is a Grammy nominated artist, an original founder, vocalist, writer and designer of the influential, industrial / metal band Fear Factory. Since 1990, Fear Factory has recorded 10 full length albums, inspired by the concepts of "man vs. machine". Fear Factory toured the world relentlessly, supporting major acts like Ozzy Osbourne, Black Sabbath, Megadeth, Iron Maiden, and Metallica. In 1999 Fear Factory earned a gold record for their concept album OBSOLETE.
Burton was the vocalist for Geezer Butler's (Black Sabbath) first solo endeavor G//Z/R, with the album PLASTIC PLANET.  Burton created the band Ascension of The Watchers with band mate, and good friend John Bechdel, exploring the textures and ambience outside their known genres. Their first, full length LP, NUMINOSUM, was released on Al Jourgensen's 13th Planet Records.
Burton appeared as a guest vocalist with the seminal band, Ministry,  on TWO different albums, THE LAST SUCKER, and AMERIKKKANT.  He was nominated for a Grammy on the cover of, Under My Thumb, on the Ministry release COVER UP.
Burton helped establish the Vancouver based band, City of Fire, recording 2 albums, the self titled CITY OF FIRE, and the followup, TRIAL THROUGH FIRE,  in Vancouver and Toronto, Canada, With City of Fire, Burton exploring the hard rock styles of music, extending his vocal range beyond the industrial / metal scene.
In 2015 Burton independently released his first graphic novel, THE INDUSTRIALIST, based on the Fear Factory album of the same name. All copies sold out!
Burton has appeared as a guest vocalist on countless albums, with bands that have been influenced by Burton and Fear Factory.
Burton is currently anticipating the release of the new Ascension Of The Watchers album, Stormcrow/Apocrypha, later this year.
Fear Factory and Burton are probably best known for their track Replica off of their groundbreaking album DEMANUFACTURE:
And their cover of the Gary Numan classic Cars, in which Numan duets with Buron, off of the album OBSOLETE:
ROCKNPOD Weekend takes place August 14-16 in Nashville TN 
Preparty concert on Friday (08.14) with STARZ, Rare Hare, and Rock United at Mercy Lounge
ROCKNPOD Expo on Saturday (08.15) with special guests including current and former members of Tesla, KEEL, Saigon Kick, TNT, with More being added! 
Rock n Roll Double Feature Screening on Saturday night(08.15) of The Greatest Show on Earth (KISS Fan Film) and KISS Meets the Phantom of the Park with live comedian commentary! 
Punchlines & Backlines Comedy Show on Sunday night (08.16) at Zanies Comedy Club (guests TBA).
Full details available at Rocknpod.com!
Tickets & VIP: https://www.nashvillerocknpodexpo.com/ticketing/
Celebrity Guests: https://www.nashvillerocknpodexpo.com/guests/
Hotel Discount: Book your room to save money and stay on site! 
https://www.nashvillerocknpodexpo.com/hotel/
#burtoncbell #bcb #fearfactory #rocknpod #rocknpod2020 #rocknpodexpo #convention #expo #fanexpo #rock #metal #music #festival #tradeshow #podcast #podcastexpo #podcastlife #conference