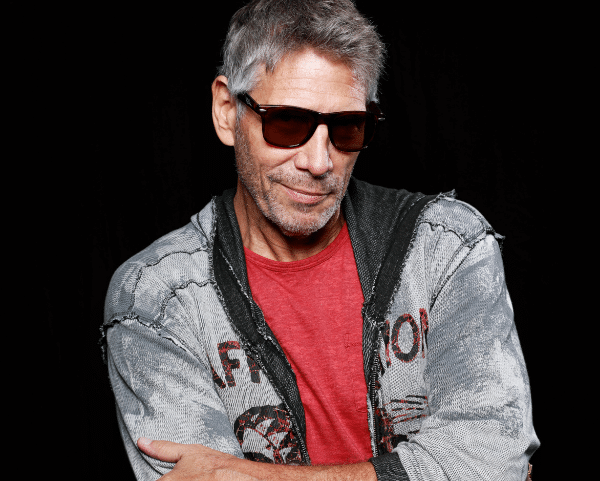 Mark Goodman
MARK GOODMAN IS COMING TO ROCKNPOD 2021
We're excited to announce that Mark Goodman will be joining us for the ROCKNPOD Expo!
Mark Goodman has been a music fanatic since seeing the Beatles on Ed Sullivan as a kid. He started in radio in his hometown of Philadelphia at WMMR. In 1978 he became music director of the station. Leaving WMMR in 1980 Goodman became a part of the air staff at WPLJ, the number one rock station in New York. 
FORMER MTV VJ MARK GOODMAN
It was 1981 when Mark left WPLJ to join the as yet unknown music video channel called MTV. As one of the 5 original VJs Mark interviewed everyone from Paul McCartney to Sting to Bruce Springsteen. He also hosted several special shows for the channel including "The Week In Rock", "120 Minutes" and the first show ever syndicated to broadcast by MTV "The Top 20 Video Countdown."
In the late 80's Mark began an acting career that saw him working in film and TV. Goodman appeared in several films including "Man Trouble" the worst film Jack Nicholson ever made even though it was produced by the same team as the classic '5 Easy Pieces'! Mark had a small but pivotal role in Police Academy 6 (yes there were 6!). On TV Mark could be seen in such shows as " Married With Children and The Practice. 
In 1999 Mark became SVP of Music Programming for Soundbreak.com an internet radio station. He developed the format, hired and trained the air staff, and developed all the special programming which became available for syndication to other sites including British Telecom Open World.
After the dot com crash, Mark continued his search for the new musical underground.  Oddly it presented itself from outer space in the form of satellite radio. Mark accepted a position at Sirius Satellite Radio on their (what else) 80's channel. Since starting there Mark has added shows on Classic Rewind (late 70's through early 90's rock) and The Spectrum (a lively mix of rock, pop, and indy for grownups…which Mark is still considering becoming). Concurrent with that Goodman's understanding of the power of combining music and visuals made Mark's next step in the music business almost a given. Music supervision…putting music in films and TV shows. While he had music supervised several pilots for Fox it was the Touchstone/ABC TV show "Desperate Housewives" which offered Mark his greatest challenge. Mark was tapped as music supervisor to help launch the series.
May of 2013 saw the publication of 'VJ-The Unplugged Adventures of MTV's First Wave'. An oral history of the launch and early days of MTV written by Mark and the surviving VJs. VJ became a New York Times bestseller upon its release and we may see the book produced in other media as well.
MARK GOODMAN IS CURRENTLY ON SIRIUS XM
Mark has recently taken on a new challenge. In October of 2016, SiriusXM launched a new channel called Volume. It is the world's first talk channel about music. Mark now hosts a live call-in show on weekdays on the channel and continues to interview big stars to up-and-coming talent in many different genres. Everyone from John Mayer to Little Big Town to John Mellencamp to Jimmy Page to Christine McVie and Lindsey Buckingham have hung out on this new show. Check it out 4-7 pm ET on SXM 106.
Mark will be on hand at the ROCKNPOD Expo Saturday, August 7th to meet fans, participate in a special panel being planned, and interview with several of the podcasts on-site.
ROCKNPOD Weekend takes place August 6-8 in Nashville TN. Full details available at Rocknpod.com!
Tickets: https://www.nashvillerocknpodexpo.com/ticketing/
Guests: https://www.nashvillerocknpodexpo.com/guests/
Venue/Hotel: ROCKNPOD 2021 takes place at the Hilton Nashville Airport!
Hotel Discount: Book your room to save money and stay on site! https://www.nashvillerocknpodexpo.com/hotel/
#markgoodman #ogvj #musictelevision #mtv #siriusxm #classicrewind #volume #rocknpod #rocknpod2021 #rocknpodexpo #convention #expo #fanexpo #rock #metal #music #festival #tradeshow #podcast #podcastexpo #podcastlife #conference